Swedish prime minister voted out by parliament
POLITICAL DEADLOCK: Stefan Lofven is to head the transition government till a new government is installed, but a stalemate could force a new election in three months
Swedish Prime Minister Stefan Lofven yesterday lost a no-confidence vote in parliament and will step down after four years in power, but with neither major political bloc holding a majority it remained unclear who would form the next government.
Voters delivered a hung parliament in the Sept. 9 election with Lofven's center-left bloc garnering 144 seats, one more than the center-right opposition Alliance.
The anti-immigration Sweden Democrats, with 62 seats and shunned by all parties since entering parliament in 2010, backed the Alliance in the vote — an obligatory test of the prime minister's parliamentary support after an election.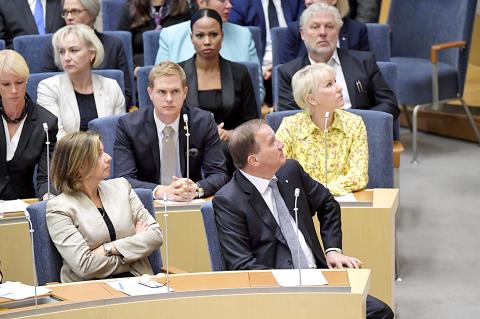 Front row from left, Swedish Deputy Prime Minister Isabella Lovin and Prime Minister Stefan Lofven look on as Lofven was ousted in a no-confidence vote in parliament in Stockholm yesterday.
Photo: EPA-EFE
Analysts expect the speaker to pick Ulf Kristersson, leader of the biggest Alliance party, the Moderates, to try to form a new administration.
Kristersson said the vote was never in doubt.
"There was a clear majority that the government shouldn't stay," he said. "That's the starting point. Now it's up to the speaker to assess the options."
However, lacking a majority, he needs support either from the Sweden Democrats, with roots in the white supremacist fringe, or the center left.
"If the Alliance parties choose to try to govern as the smallest bloc, then they make themselves totally dependent on the Sweden Democrats," Lofven said.
Sweden Democrat leader Jimmie Akesson yesterday repeated that his party wanted a say in policy as the price of supporting a new government.
"I'm not here to stir up trouble," he said in parliament.
However, "we will do everything in our power to stop any attempt to form a government, do everything to bring down every government, which does not give us a reasonable influence in proportion to our electoral support," Akesson said.
The Alliance of the Moderates, Center, Liberal and Christian Democrats has said it would not negotiate with the Sweden Democrats, who want to freeze immigration and have called for a new vote on membership of the EU.
Lofven, 61, has also ruled out backing an Alliance government, leaving politics deadlocked.
"I want to continue to lead the country as prime minister," he said. "I want to lead a government that has broader support in the country's parliament and that allows us to leave stalemate of bloc politics."
Center Party leader Annie Loof said it was important to stick to reality.
"We must cooperate and discuss with one another," she said.
The speaker has four goes at finding a new government and if the stalemate continues, Sweden must hold another election within three months.
Sweden has never gone beyond round one, but that could change this time, as the margin is razor thin, both sides are digging in.
However, with a new vote unlikely to change the situation much, some kind of compromise is likely to be thrashed out.
A number of party combinations have been suggested, but all would have a heavy political cost and a deal is could take weeks.
Lofven will lead a transition government until a new administration is installed.
Additional reporting by Bloomberg
Comments will be moderated. Keep comments relevant to the article. Remarks containing abusive and obscene language, personal attacks of any kind or promotion will be removed and the user banned. Final decision will be at the discretion of the Taipei Times.