Hong Kong framework firm: China
Chinese Minister of Foreign Affairs Wang Yi (王毅) yesterday said his country remains committed to the "one country, two systems" governing framework in Hong Kong, despite growing concerns that Beijing is eroding the former British colony's civil liberties.
China would continue to follow the system put in place when the city was turned over to Chinese rule in 1997, Wang told reporters following talks with UK Secretary of State for Foreign and Commonwealth Affairs Jeremy Hunt.
"Hong Kong affairs are the domestic affairs of China. We do not welcome nor do we accept other countries to interfere in China's domestic affairs," Wang said at a news conference. "But of course China will continue to support and will stay committed to one country, two systems."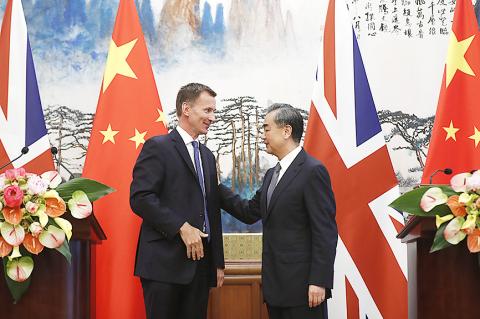 UK Secretary of State for Foreign and Commonwealth Affairs Jeremy Hunt, left, talks with Chinese Minister of Foreign Affairs Wang Yi during a news conference at the Diaoyutai State Guesthouse in Beijing, China, yesterday.
Photo: EPA-EFE
While the territory remains among the highest-rated for rule of law and government efficiency, freedom of speech is seen as coming under attack. The government has also moved against a generation of young political activists who emerged after 2014's failed nonviolent protests over Beijing's decision to restrict elections.
Any activities in the territory seen as threatening China's sovereignty and stability would be "absolutely impermissible," Chinese President Xi Jinping (習近平) warned in a speech last year marking 20 years since Hong Kong became a semi-autonomous region of China.
Accompanying that hard line, China has angrily denounced critical reports about the implementation of the "one country, two systems" framework from Britain, with which it signed a joint agreement on post-1997 arrangements, and other nations.
Hunt said that while Britain fully recognizes China's sovereignty over the territory: "We ... are very much committed to the one country, two systems approach, which we think has served both Hong Kong and China extremely well."
At the beginning of their meeting, Hunt sparked laughter when he misidentified his Chinese-born wife as being Japanese. Hunt, on his first official visit to China, quickly acknowledged the "terrible" error.
"My wife is Japanese — my wife is Chinese. That's a terrible mistake to make," he told Wang.
A former health minister, Hunt is married to Lucia Guo, with whom he has three children.
Comments will be moderated. Keep comments relevant to the article. Remarks containing abusive and obscene language, personal attacks of any kind or promotion will be removed and the user banned. Final decision will be at the discretion of the Taipei Times.