Trial of lawyer accused of subversion starts in China
'OPEN TRIAL': The court released a video showing Xie Yang saying he had not been mistreated. It also said foreign journalists were among 40 people at the hearing
China yesterday began the trial of rights lawyer Xie Yang (謝陽) for "subversion of state power" and "disrupting court order," a city court said on social media. The case has drawn international concern amid claims Xie was tortured in jail.
Chinese President Xi Jinping (習近平) has overseen a sweeping crackdown on civil society during his four years in power, charging or detaining dozens of rights lawyers and activists who authorities say are a threat to national security and social stability.
The Changsha Intermediate People's Court in central China's Hunan Province released transcripts of the first hearing of Xie's case on a popular Chinese microblogging site yesterday morning.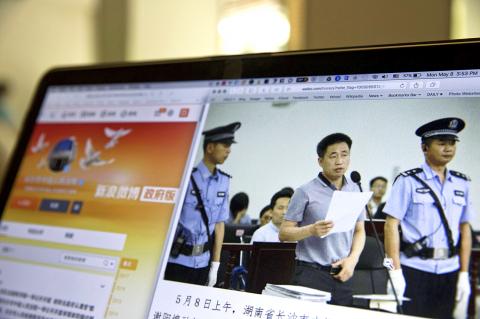 A photograph said to show the trial of human rights lawyer Xie Yang is displayed on the social media of the Changshai Intermediate People's Court yesterday on a computer in Beijing.
Photo: AP
According to the transcripts, Xie confirmed his identity, the date he had received the charges against him, that he understood the charges and that he would not apply to challenge the impartiality of the judge.
The court also released a short video that showed Xie saying he had not been mistreated while in custody.
It also said 40 people, including foreign and domestic journalists, attended the hearing, which it said would be an "open" trial.
Reuters could not verify independently the accuracy of the transcripts or photographs released on the site.
The court declined to comment when called and it was not possible to reach Xie.
Xie's wife, Chen Guiqiu (陳桂秋) who is in the US, released a statement late on Sunday that said a number of his supporters had been prevented from attending the trial.
"It looks like all parties have already prepared for this open hearing," she said. "Xie Yang is innocent, if there is an open hearing then this is to look down on the law."
Xie was reported missing by rights groups in mid-2015 and was then held without any charges being made public until January last year, when authorities formally announced his arrest on suspicion of "inciting subversion".
In January, Chen released an account that described her husband's torture while in detention. Her account was widely reported in international media.
The UN on Friday spoke outagainst the detention of his lawyer, Chen Jiangang (陳建剛), who had taken Xie's account of abuses and passed them to Xie's wife to release.
In March, China's state broadcaster and a number of other government-backed media outlets simultaneously released reports declaring the accounts of torture a fabrication and calling international media reports about them "fake news."
Comments will be moderated. Keep comments relevant to the article. Remarks containing abusive and obscene language, personal attacks of any kind or promotion will be removed and the user banned. Final decision will be at the discretion of the Taipei Times.