Ukraine takes Russia to UN court over Crimea
HAGUE HEARINGS: A 16-judge panel is hearing Kiev's request for provisional steps, such as ordering Moscow to stop financing or arming rebels, as the case proceeds
Ukraine yesterday urged the UN's top court to help bring stability to its war-torn east by seeking to convince judges that Russia is "sponsoring terrorism" in its conflict against separatist pro-Russian rebels.
"Today I stand before the court to ask for the protection of the basic human rights of the Ukrainian people," Ukrainian Deputy Minister of Foreign Affairs Olena Zerkal told a 16-judge panel at the International Court of Justice (ICJ) in The Hague. "Thousands of innocent Ukrainians have already suffered deadly attacks."
"Today I stand before the world to seek protection for the Ukraine from the Russian Federation," she added, saying that all Kiev was seeking was "a measure of stability and calm in an unpredictable and dangerous situation."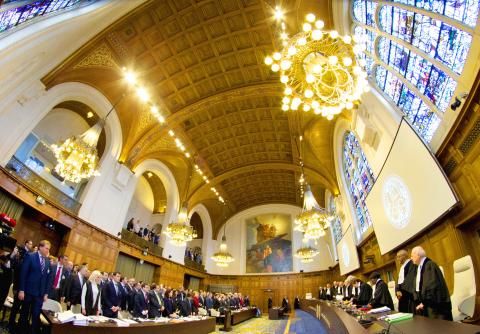 Judges, right, yesterday take their places at the International Court of Justice in The Hague, Netherlands, where Ukraine, whose representatives are standing left, is accusing Russia of financing separatist rebels and discriminating against ethnic Tartars and Ukrainians in the Crimea Peninsula.
Photo: AP
Ukraine's representatives are asking the court to impose emergency measures ordering Russia to stop its alleged funneling of money, weapons and personnel into the east, and to halt what it called "discrimination" against minorities in Russian-occupied Crimea.
It is also seeking compensation for attacks on civilians in nearly three years of conflict, including the shooting down of Malaysia Airlines Flight MH17 by a missile over rebel-held eastern Ukraine in 2014.
Moscow has long denied arming the rebels and has said the case is motivated only "by political interests." It has also claimed that Kiev has "shown a lack of will to hold a concrete dialogue."
Ukraine lodged its case in the middle of January, saying it had protested for several years against Moscow's alleged financing of separatist rebels battling Ukrainian government forces.
Kiev says that Moscow has "largely failed" to respond to its efforts to reach a resolution in the dispute and that "further negotiations would be futile."
Ukraine now "respectfully requests the court to adjudge and declare that the Russian Federation bears international responsibility by virtue of its sponsorship of terrorism ... for the acts of terrorism committed by its proxies in Ukraine," it said in papers before the court.
Nearly three years of conflict have claimed about 10,000 lives in eastern Ukraine — and led to Russia's seizure of Ukraine's southern peninsula of Crimea in 2014.
Rare talks between Ukrainian President Petro Poroshenko and Russian President Vladimir Putin over the past month have proved "fruitless," the Ukrainian presidency said on Thursday in a statement.
Poroshenko yesterday hailed the start of the four days of hearings, calling it "a historic moment" on his Facebook page.
"The truth is stronger than weapons!" he wrote.
The court case comes amid an upsurge in violence which killed 35 people early last month, centered around the government-held town of Avdiivka near the rebel bastion of Donetsk.
Tensions have escalated since a group of Ukrainian politicians and military veterans last month launched a rail blockade of shipments from separatist-controlled areas, causing economic pain on both sides.
Moscow "brazenly defied" the UN Charter by seizing the Crimea and then attempted to "legitimize its act of aggression" by holding an "illegal referendum," Kiev said in its filing.
It accuses Russia of discriminating against Crimean minorities such as Tatars and ethnic Ukrainians including conducting what it termed a campaign of "cultural erasure" against these groups.
Russia is to make its case today and a Russian embassy official in The Hague said that a "broad delegation" of about 35 officials including "members of different agencies, experts and lawyers" would be present at the hearings, which are to end on Thursday.
The ICJ was set up in 1945 to rule in disputes between countries.
Additional reporting by AP and Reuters
Comments will be moderated. Keep comments relevant to the article. Remarks containing abusive and obscene language, personal attacks of any kind or promotion will be removed and the user banned. Final decision will be at the discretion of the Taipei Times.