Stress from shelling leads to baby boom in Ukraine
Olena Gorbatova gave birth to her third child in war-torn eastern Ukraine to the sounds of gunfire and exploding shells in the Kiev-held flashpoint town of Avdiivka.
The 40-year-old Gorbatova calmed herself by thinking the attacks were just a celebration of the baby girl she named Myroslava — which in Russian and Ukrainian means "glory to peace."
The wartime birth was not unusual.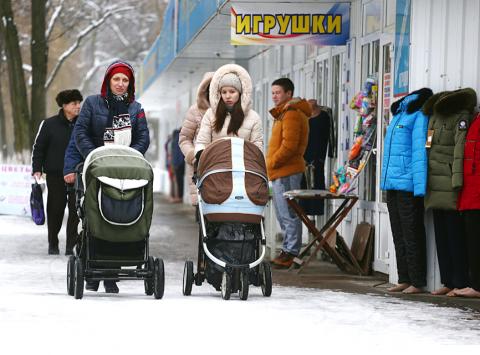 Women push strollers along a street in Avdiivka, Ukraine, on Jan. 16.
Photo: AFP
The town in which dozens were killed early last month has seen a mini baby boom that doctors attribute to the fact that people want to couple in times of stress and a change in women's hormonal behavior.
"In recent years, we have managed to deliver babies from older families who are now in their 40s," gynaecologist Svitlana Khomchenko told reporters in the dilapidated and partially abandoned town of less then 20,000 people.
"They had been trying without success for many years and now families who were considered sterile have children," Khomchenko said. "It turns out that stress is a factor."
Gorbatova's 38-year-old husband, Sergiy, had to make it past a series of road blocks to reach the maternity ward where his wife was resting.
A part of it has been turned into a military hospital. Women about to give birth lie side by side with people wounded in the 34-month revolt in the pro-Russian region that has killed more than 10,000 people and left nearly 25,000 injured.
Sergiy laughed off local jokes that the rising birth rate is down to the large number of Ukrainian soldiers defending the town.
He said that many people tried to convince him not to bring more children into Ukraine's unsafe world, "but we still decided to do it."
The fog of war means that no real scientific study can explain why couples have more sex and women appear to be more fertile when disaster strikes.
Khomchenko simply cites the statistics she has.
The year the war broke out in 2014 there were 45 births in Avdiivka compared with 110 babies born last year, despite people fleeing the region for more peaceful parts of the ex-Soviet state.
Khomchenko recalls scenes of horror as women were hidden in basements to shield them from exploding shells that blasted out windows and mortar rounds that landed in the hospital's garden.
The city's heating system is periodically not working and the doctor says she has had to take many deliveries by candlelight.
A power generator has been installed and the windows replaced.
The maternity ward stayed open even during the frightening days early last month when constant clashes between rebels and government troops claimed 35 lives.
"We worked while people were dying, but we were forced to move some of the women in labor to neighboring towns because there was no heat or water," Khomchenko said.
Now the fighting has eased and the hospital is preparing to bring more babies into the world.
"The situation has normalized — if, of course, you call a war a normal situation," the gynaecologist said.
Gorbatova and Sergiy say they are preparing for tough times, but are still filled with hope for their daughter.
"It will be difficult," Sergiy said. "We will have to deny ourselves many things."
"We want her name to give people a signal — enough war and glory to peace," he added.
Comments will be moderated. Keep comments relevant to the article. Remarks containing abusive and obscene language, personal attacks of any kind or promotion will be removed and the user banned. Final decision will be at the discretion of the Taipei Times.