Iraqi family mourns loss of soldier son in Mosul
Early on the morning of Dec. 12 last year, Iraqi Army Major Hamza Finjan led a raid on a small house in eastern Mosul that was being used as an Islamic State group base.
Knowing that the task would be dangerous, he told his personal bodyguards and driver — perks given to Iraqi officers — to stay behind.
As Finjan's men moved into the house, Islamic State fighters surrounded them using a network of tunnels connecting the buildings to a nearby mosque.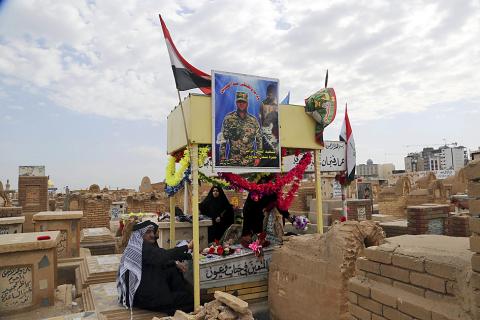 Family members of Iraqi Army Major Hamza Finjan, seen in the poster, visit his grave at a cemetery in Najaf on Wednesday.
Photo: AP
Finjan called for support, but none came.
Within two hours he was dead along with four other soldiers.
As Iraqi forces prepare for the operation to retake the western half of Mosul, Finjan's family in Baghdad, more than 300km away, continues to mourn their son.
Hundreds of Iraqi soldiers are estimated to have died in the fight for Mosul so far, but the Iraqi government does not release official casualty reports, a move that many Iraqis view as disrespectful of their sacrifice.
Iraqi commanders on the ground blame the high casualty rates on the nature of the fight: the city of Mosul — Iraq's second-largest — is a large, dense urban area and the operation to retake it is larger in scale than any conventional military fight since the 2003 US-led invasion of Iraq.
Finjan's family blamed the planning of the Mosul operation for the death of their son.
He had fought in Mosul alongside US forces in 2008 and before his deployment there last year, he attended officer training courses in Jordan.
Finjan had the respect of his men and knew how to clear a room and secure a perimeter, but the increasingly difficult missions he was being given in Mosul were testing his many years of training and experience.
"The way that the Iraqi government planned the Mosul operation was like a trap," said his father, Finjan Mathi.
He said he believed that the military was pushed to advance too quickly by the nation's political leadership.
"They should have pulled all the civilians out so they could use heavier weapons," Finjan Mathi said.
His frustration is echoed by Iraqi commanders on the ground in Mosul, who said the operation would have been easier if the city was emptied of civilians, like the cities of Ramadi and Fallujah in Anbar Province were before they were retaken from Islamic State militants.
The family says the government's practice of not releasing military casualty information dishonors the family's sacrifice.
A photograph of Hamza Finjan's hangs in his family's sitting room in Baghdad's Shaab neighborhood on the capital's northeastern edge.
Beside it is a photo of his older brother, a police officer killed when a car bomb exploded at a checkpoint he was guarding.
His family is poor, religious and deeply patriotic. Like the vast majority of the families whose sons join the country's armed forces, they trace their tribal roots to Iraq's predominantly Shiite south.
Since the Mosul operation began, Finjan Mathi said he has attended more than 25 funerals, in addition to that of his son.
Regardless, Finjan Mathi said he is proud of his son's service to his country.
"We sacrifice our sons for our land, not for our government," Finjan Mathi said. "All we ask for in return is respect."
Comments will be moderated. Keep comments relevant to the article. Remarks containing abusive and obscene language, personal attacks of any kind or promotion will be removed and the user banned. Final decision will be at the discretion of the Taipei Times.