From Ukraine with love: Postcards pay tribute to war dead
Most postcards carry a simple sentiment: Wish you were here.
But the cards Anastasia Taylor-Lind and Alisa Sopova are mailing randomly to people around the globe convey a haunting message: Wish this stranger was still alive.
The pair hopes their postcards — each scribbled with the name of a victim of armed conflict in Ukraine — will put a human face on war.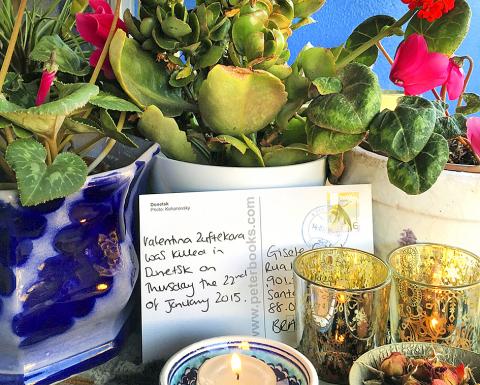 A July 31, 2015, photo provided by Gisele Cassol shows a postcard she received, which was sent as part of the "Welcome to Donetsk" postcard project, and displays in Santa Catarina, Brazil.
Photo: Gisele Cassol via AP
"I wanted people to have a more personal experience with conflict," said Taylor-Lind, a photojournalist who was on assignment for National Geographic when inspiration struck in a post office in the middle of the war zone.
Fighting between Ukrainian government troops and Russia-backed separatists has killed more than 9,600 people in eastern Ukraine since it began in 2014. Ukraine filed a case against Russia this month at the UN's highest court, accusing Moscow of illegally annexing Crimea and illicitly bankrolling rebel groups.
Although the shelling has diminished, Taylor-Lind feels compelled to keep alive the memories of those on all sides who have perished.
At a post office in the embattled city of Slavyansk, she came across postcards with idyllic scenes: a cityscape framed by a river and blossoming trees; lovers embracing at twilight along a moonlit promenade. Printed on them was a cheerful greeting in English: "Welcome to Donetsk," the capital of the Donbass region and ground zero for the conflict.
In the summer of 2015, Taylor-Lind ordered 1,000 cards and began addressing them to people around the world she had never met. Some were chosen at random; others had responded to her vague offer via social media of a postcard — not knowing what they would get.
That launched a continuing project that gained momentum last year while she was at Harvard University on a fellowship. Each carried a cryptic message with the name of a casualty of war and the date that he or she died.
"The war in Ukraine isn't something that happened and then just went away. The lives and livelihoods of millions were affected," she said. "This was very much an experiment. I didn't know how people would react."
React they have, with anger, shock, confusion and sadness.
A few recipients initially puzzled over the cards, which are postmarked in Ukraine, worrying whether someone in their household had lost a friend. Eventually, and by the hundreds, they have shared their thoughts using the hashtags #WelcomeToDonetsk and #WarIsPersonal.
Some have carried their cards to a leafy park, a remote beach or a tranquil mountainside, and held a moment of solitary remembrance for a fellow human they never met. Others have posed their cards next to lighted candles and posted photos and videos in somber tribute .
Jochem Lindelauf, of Groningen, Netherlands, was left reeling when he got a card that read: "Artem Gorlenko was killed in Spartak on Tuesday the 13th of October 2015."
Oct. 13 is Lindelauf's birthday.
"The crazy coincidence of my birthday brought it even more home for me," he said in an Instagram post.
Taylor-Lind, an English-Swedish national now at the Carey Institute for Global Good in Rensselaerville, New York, and Sopova, a journalist from Donetsk doing her Nieman Fellowship at Harvard this year, have mailed more than 2,000 postcards to people in 60-plus countries.
Trying to identify those killed has been a challenge. Neither the Ukrainian government nor the UN maintains a comprehensive list, forcing Sopova to spend many hours scouring news reports and gruesome photographs posted online, as well as corresponding with officials and others back in Ukraine.
"It means nobody cares," Sopova said. "And that makes this project even more important."
Comments will be moderated. Keep comments relevant to the article. Remarks containing abusive and obscene language, personal attacks of any kind or promotion will be removed and the user banned. Final decision will be at the discretion of the Taipei Times.