WHO warns of worrisome flu in China
CAUSING CONCERN: Avian influenza typically infects people who raise, slaughter, sell or cook poultry, but human-to-human transmission is suspected in two cases
After a spate of deaths from bird flu among patients in China, the WHO has warned all nations to watch for outbreaks in poultry flocks and to promptly report any human cases.
Several strains of avian flu are spreading in Europe and Asia this winter, but the most worrisome at present is an H7N9 strain that has circulated in China every winter since 2013.
China has reported more than 225 human cases since September last year, an unusually high number.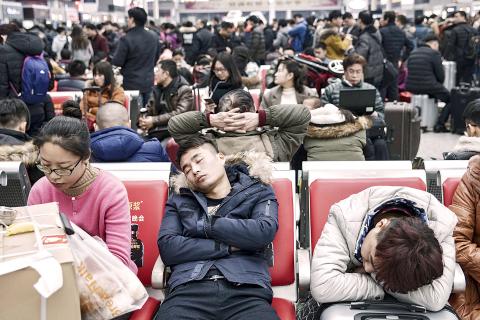 Travelers rest on a bench at the Shanghai Hongqiao Railway Station ahead of the Lunar New Year in China on Wednesday. China has reported more than 225 human cases of avian flu since September last year and holiday travelers often spread the disease.
Photo: Bloomberg
As the nation's Lunar New Year vacation starts, live poultry shipments increase and holiday travelers often spread the flu.
The fatality rate is not yet known, because some victims are still hospitalized, but WHO Director-General Margaret Chan (陳馮富珍) said this week that China had more than 1,000 cases in the past four years, of which 39 percent were fatal.
"All countries must detect and report human cases promptly," she said. "We cannot afford to miss the early signals."
The flu typically infects people who raise, sell, slaughter or cook poultry, but human-to-human transmission is suspected in two cases that worry health officials.
Both were older men with a history of poultry contact. One apparently infected a daughter who cared for him and the other his hospital roommate.
The Hong Kong Department of Health this week warned residents traveling to mainland China to avoid live poultry markets.
More than 9 percent of samples from markets in Guangdong Province contained the H7N9 virus, a "substantial" reading, the department said.
The swabs are typically taken from cages, sewage gutters, feeding troughs, and chopping and defeathering machines.
Since November last year, nearly 40 nations have reported finding potentially dangerous flu strains in poultry flocks or in captured or dead wild birds. They include a new H5N6 strain, H5N8 and H5N5.
There have also been sporadic cases of H5N1, a strain with a 60 percent fatality rate that caused great alarm more than a decade ago. It has caused almost 400 confirmed deaths since 2003, but has not evolved the ability to transmit easily between people.
Since the highly contagious, but relatively mild H1N1 "swine flu" circled the globe in 2009, "the world is better prepared for the next influenza pandemic, but not at all well enough," Chan said.
Comments will be moderated. Keep comments relevant to the article. Remarks containing abusive and obscene language, personal attacks of any kind or promotion will be removed and the user banned. Final decision will be at the discretion of the Taipei Times.