Japanese skating rink that froze 5,000 dead fish closes
A Japanese skating rink that froze 5,000 dead fish into the ice as an attraction for visitors has been forced to close after receiving a barrage of criticism.
Amusement park Space World is now melting the rink — which could take about a week — and will hold a memorial service for the fish, the company said.
The rink in the city of Kitakyushu in southwestern Japan opened on Nov. 12, after 5,000 fish were frozen under the surface of the ice as a decorative effect while customers skated above.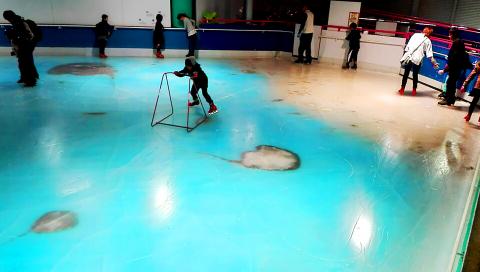 A handout picture taken this month and released yesterday shows people skating on an ice rink with 5,000 frozen dead fish inside at the Space World amusement park in Kitakyushu, Japan.
Photo: AFP
About 25 different kinds of fish could be seen under the 250m-long ice circuit. The park opened the "Ice Aquarium" as an "attraction never heard about."
Japanese broadcaster NHK showed the fish frozen in ice on a blue floor, so it looked like they were swimming below the ice. Some formed a school to spell out "HELLO" or make an arrow-shaped sign in the ice.
However, the concept was slammed as unethical and the rink was forced to close on Sunday, Space World spokesman Koji Shibata said.
"We received critical voices saying it is not good to use creatures as a toy, and that it is bad to let food go to waste," he said yesterday.
Social media erupted, with one visitor to the park's Facebook page writing: "An event on an ice rink with frozen fish... How sinful."
"This is not personal, but a social issue. They made food into a toy where children go and play," another said.
Shibata said the fish were all already dead at the time of purchase and were considered unfit to be sold in markets.
"Internally we'd had discussions over the morality of the idea" before the display was set up, he said.
Space World general manager Toshimi Takeda said the intention was for visitors to have fun while also learning about fish.
"We wanted customers to experience the feeling of skating on the sea, but after receiving criticism, we decided that we could not operate it any more," he said.
Takeda said that the park is "extremely remorseful to have invoked such unpleasant feelings."
"We are planning to hold a memorial service for the fish inviting a Shinto priest, which we'd planned before getting criticized," he said.
Space World said the fish were purchased from a fish market and were dead before the water was frozen.
Additional reporting by AP
Comments will be moderated. Keep comments relevant to the article. Remarks containing abusive and obscene language, personal attacks of any kind or promotion will be removed and the user banned. Final decision will be at the discretion of the Taipei Times.