Officials assess quake damage in central Italy
Officials in central Italy began early yesterday to assess the damage caused by a pair of strong earthquakes in the same region of central Italy hit by a deadly earthquake in August, as an appeal went out for temporary housing adequate for the cold mountain temperatures.
Thousands of people spent the night in their cars following the pair of quakes that struck late in the evening, sending residents into the streets in pouring rain, too late for authorities to come up with adequate shelter.
A series of small shocks overnight, including two registering magnitudes above 4 before dawn, further unsettled residents.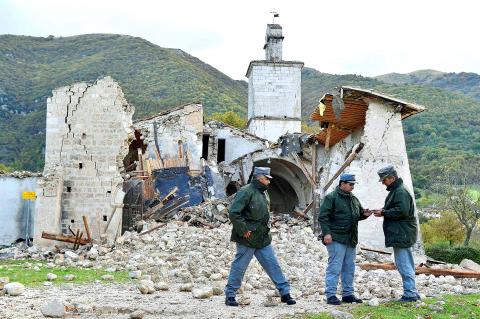 State Forestry Corps officers stand in front of a collapsed church in Campi di Norcia, Italy, yesterday.
Photo: Reuters
The morning after the quakes, there remained no reports of serious injuries or signs of people trapped in rubble. Civil Protection Department head Fabrizio Curcio said it appeared that the situation "is not as catastrophic" as it could have been.
A 73-year-old man died of a heart attack, possibly brought on by the quakes, local authorities told the ANSA news agency.
Mayors of towns scattered in the mountain region spanning the Umbria and Marche regions say many more homes were rendered uninhabitable, on top of those damaged in the August quake, while historic structures that survived previous temblors had succumbed this time.
Camerino Mayor Gianluca Pasqui said the town's historic bell tower had collapsed, but added that reconstruction work after a 6.1 quake in 1997 appeared to have contributed to the absence of serious injury.
"I can say that the city didn't have victims. That means that even if there is a lot of damage probably the reconstruction in the historic center was done in a correct and adequate manner. Because otherwise, we would be speaking of something else," Pasqui told Sky TG24.
Umbria President Catiuscia Marini told RAI state television that officials were scrambling to come up with temporary housing, mindful that with winter approaching and temperatures dropping, tents cannot be deployed as they were after the August quake. The concern for the predominantly elderly population of the remote mountain region was repeated by other officials.
Marini said that after the quakes many people would be fearful of staying even in hotels deemed safe, and that solutions like campers were being considered.
"We don't have injured, we have people who are very afraid, who have anxiety, especially the elderly," she said.
In Visso, Mayor Giuliano Passaglini said he was only able to provide shelter for a couple hundred residents overnight, and most people spent the night in their cars. About 800 people were without shelter in Visso.
Firefighters were helping residents to retrieve objects from their homes in the red zone. Most were intact, showing only cracks.
The first quake struck at 7:10pm and carried a magnitude of 5.4, but the second one a little more than two hours later was eight times stronger at 6.1, according to the US Geological Survey.
Officials said the fact that people had already left their homes when the second quake hit probably saved lives.
"Many houses collapsed," the mayor of hard-hit Ussita, Marco Rinaldi, told Sky TG24. "The facade of the church collapsed. By now I have felt many earthquakes. This is the strongest of my life. It was something terrible."
Rinaldi said two elderly people were rescued from their home, where they were trapped, and appeared to be in good condition.
Calling it "apocalyptic," he said the town and its hamlets were "finished."
In addition to the town's church, the parish and other buildings had suffered heavy damage, he said.
A church crumbled in the ancient Perugian town of Norcia, famed for its Benedictine monastery and its cured meats. A bell-tower damaged on Aug. 24 fell and crushed a building in Camerino, ANSA reported.
Elsewhere, buildings were damaged, though many were in zones that were declared off-limits after the Aug. 24 quake that flattened parts of three towns.
Italian Prime Minister Matteo Renzi, who cut short a visit to southern Italy to monitor the quake response, tweeted "all of Italy is embracing those hit once again."
The pope said in a message on Twitter that he is praying for the people hit by the quake.
Comments will be moderated. Keep comments relevant to the article. Remarks containing abusive and obscene language, personal attacks of any kind or promotion will be removed and the user banned. Final decision will be at the discretion of the Taipei Times.