Scientists reveal secrets of giant sponge
Researchers in Hawaii have been absorbed by a sea creature they discovered last summer, and their findings are pretty big.
The team of scientists on a deep-sea expedition in the waters off Hawaii discovered what they say is the world's largest known sponge.
The creature, roughly the size of a minivan, was discovered about 2,100m beneath the surface in a marine conservation area called Papahanaumokuakea off the shores of the Northwestern Hawaiian Islands.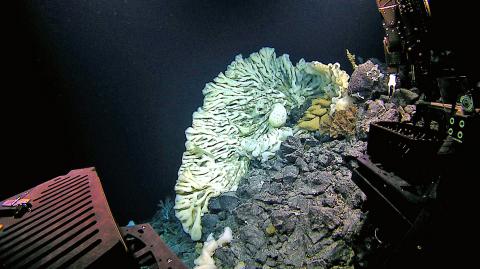 An underwater remote-controlled vehicle approaches a massive sponge in the Papahanaumokuakea Marine National Monument off Hawaii in a photograph released on Aug. 12 last year.
Photo: AP
The rare sponge, with a bluish-white color and brain-like appearance, stunned scientists when it appeared in the remote-controlled cameras attached to their underwater rover.
Scientists from the US National Oceanic and Atmospheric Administration (NOAA) and the University of Hawaii studied the sponge for about a year before releasing their findings.
"The largest portion of our planet lies in deep waters, the vast majority of which has never been explored," Papahanaumokuakea research specialist Daniel Wagner with NOAA's Office of National Marine Sanctuaries said in a statement released on Wednesday. "Finding such an enormous and presumably old sponge emphasizes how much can be learned from studying deep and pristine environments."
A study published this week in the scientific journal Marine Biodiversity described the massive creature.
The animal was found in the waters of the Papahanaumokuakea Marine National Monument, which is the largest protected conservation area in the US and one of the largest in the world. It covers an area that is bigger than all the other US national parks combined.
Christopher Kelley, program biologist at the Hawaii Undersea Research Lab, who helped lead the expedition with Wagner, said the crew captured images of the sponge with remote underwater cameras that were positioned above their underwater research vehicle.
They then used laser points to measure parts of the sponge and also carefully measured the vehicle and compared those dimensions to the images they had of the sponge and vehicle together to determine its size.
Kelley said they took samples of a sponge of the same species they found the day before the larger one and sent them to the world's top experts and no one could identify what genus the sponge belongs to.
Comments will be moderated. Keep comments relevant to the article. Remarks containing abusive and obscene language, personal attacks of any kind or promotion will be removed and the user banned. Final decision will be at the discretion of the Taipei Times.