Russia, Ukraine exchange military prisoners
TWO-YEAR ORDEAL: A plane carrying Ukrainian pilot Nadiya Savchenko landed in Kiev yesterday after two Russians were flown back to Moscow
Ukrainian military pilot Nadiya Savchenko yesterday arrived home in Kiev after nearly two years in a Russian jail, part of a prisoner swap in which two Russians held in Ukraine were returned to Moscow.
Handing over Savchenko, whose release had been demanded by Western governments and who has become a national hero in Ukraine, is likely to ease tensions between Moscow and the West a few weeks before the EU decides whether to extend sanctions against Russia.
"A presidential plane with Ukraine's hero Nadiya Savchenko has landed," Ukrainian President Petro Poroshenko said in a post on Twitter.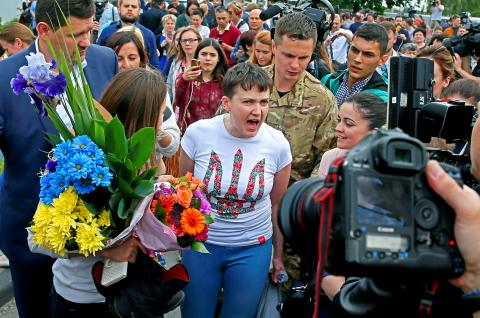 Ukrainian pilot Nadiya Savchenko talks to the media at Boryspil International Airport outside Kiev, Ukraine, yesterday following her release from a Russian prison as part of a prisoner exchange between Ukraine and Russia.
Photo: Reuters
Savchenko, 35, sporting a white T-shirt bearing the Ukrainian trident, a national symbol, looked tired as she thanked her supporters for helping win her release and vowed to fight for other Ukrainians being held by Russia.
She said she was ready to once again sacrifice her life on the battlefield for her homeland.
In Moscow, Kremlin spokesman Dmitry Peskov said that Savchenko, who while in Russian jail was elected a member of the Ukrainian parliament, was granted a pardon by Russian President Vladimir Putin to allow her to leave jail and return home.
Peskov said that the two Russians, Alexander Alexandrov and Yevgeny Yerofeyev, were now back in Russia, having landed at Moscow's Vnukovo International Airport on a special flight from Kiev.
Ukraine accused them of being Russian special forces officers fighting in eastern Ukraine, though Moscow has never acknowledged the two were following its orders.
A Russian court in March sentenced her to 22 years in jail for complicity in the deaths of Russian journalists who were killed by artillery while covering the conflict. She had denied the accusation.
Putin said on television that he had decided to pardon Savchenko after the relatives of the killed journalists petitioned him to show her mercy. He said that he hoped her release would ease tensions.
Additional reporting by AFP and AP
Comments will be moderated. Keep comments relevant to the article. Remarks containing abusive and obscene language, personal attacks of any kind or promotion will be removed and the user banned. Final decision will be at the discretion of the Taipei Times.