Raqqa a 'model city' for IS; for others a living hell
It is called Heaven Square, but after the Islamic State (IS) group started using the roundabout in Raqqa for gruesome public executions, it earned a new name: Hell Square.
In the 12 months since the extremist group announced its "caliphate" in June last year, its de facto Syrian capital of Raqqa has been transformed into a macabre metropolis.
Human heads are displayed on spikes at the central roundabout and crucified bodies hang for days to terrorize local residents, Raqqa resident and anti-IS activist Abu Ibrahim Raqqawi said.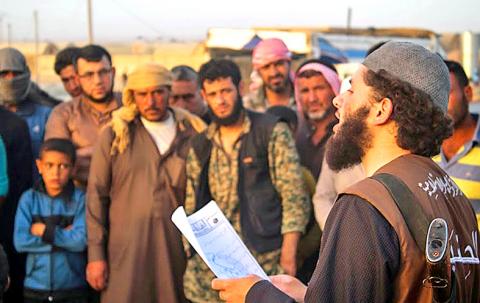 In a photo released on May 14 by a militant Web site, a member of the Islamic State group's police force known as "Hisba," right, reads a verdict sentencing many they accused of adultery to lashing, in Raqqa, Syria.
Photo: AP
"From the first moment of its control over Raqqa, IS adopted a policy of horror and terror, resorting to executions, beheadings, cutting off hands and legs, and crucifixion," said Raqqawi, who uses a pseudonym.
He belongs to the "Raqqa is Being Slaughtered Silently" underground activist group, which documents IS abuses in the northern Syrian city and surrounding province.
Activists were among IS' first targets in Raqqa, but Raqqawi and the group's members have continued to work, providing a rare window into life in one of IS' bastions.
Raqqa was the first Syrian provincial capital to fall from regime control when rebels seized it in March 2013.
However, IS soon routed those rebels and moved quickly to establish a "model city" under its harsh interpretation of Islamic law, researcher and writer Hisham al-Hashimi said.
IS wants to run Raqqa "like a central government, with police, services, justice and education," he said.
The group has taken over all levels of civil administration, rewriting school curricula, establishing Islamic courts and creating police units — the male "Hisba" force and the female "Khansa Brigades" — to implement Islamic law.
It has focused heavily on education, closing the city's schools and universities for a full year while it developed new courses.
Mathematics and English are still on the menu, but little else of the old curriculum remains; courses in jurisprudence, jihad and the Koran have been added.
"What's the point of physics, chemistry, history or statistics ... when we're learning medicine?" says Abu Abdul Rahman al-Shami, the head of Raqqa's hospital, in an IS-produced video about life in the city.
IS has sought to promote an image of the "good life" in Raqqa, with videos showing roads teeming with cars and storefronts full of customers.
It touts the implementation of its version of Islam, with life coming to a halt five times every day for prayers and all residents required to declare their assets and pay zakat — Islamic alms.
It also revels in meting out punishments for crimes ranging from collaboration with Syria's regime and theft to "witchcraft" and homosexuality.
The group regularly carries out beheadings, but also stones victims to death or throws them from building tops.
Women whose face veils do not cover their eyes are charged a gram of gold, while men who shave their beards pay a fine equivalent to US$100.
Raqqawi recounted how a woman in a face veil, walking with her husband, tripped in the street, revealing part of her face.
IS members swarmed around the couple and threatened to lash her husband if the incident was repeated.
The Syrian Observatory for Human Rights monitoring group said IS had executed 2,618 people in Syria between the founding of its caliphate in late June last year and late last month.
Residents say those who comply with IS' rules can find a way to live a "normal" life and even to benefit from the relative stability, lack of crime and municipal services in Raqqa.
"If you follow Daesh's laws and keep your head down, no one will bother you," Raqqawi said, using an Arabic acronym for IS.
And for the thousands of foreign fighters who have flocked to IS-held territory, there are special perks in Raqqa, an occasional source of tension with Syrian residents, who say they are treated as inferior.
A French IS fighter known as Abu Salman al-Fransi recently extolled the virtues of life in IS territory in a video posted online.
He said he was born to a Christian family, but chose to convert to Islam and join IS in Syria along with his wife.
"The Islamic State gave us a house and everything we needed to prepare it, thank God, and our salary every month," he said in French.
In another such video, a clean-shaven blonde Australian doctor calling himself Abu Yusef al-Australi says he left home to live "in the shadow of the caliphate."
Now he works at Raqqa hospital, where foreign fighters are treated for free, while locals pay for care.
Dressed in green scrubs and speaking English, he says with a grin: "The situation here has exceeded my expectations."
Comments will be moderated. Keep comments relevant to the article. Remarks containing abusive and obscene language, personal attacks of any kind or promotion will be removed and the user banned. Final decision will be at the discretion of the Taipei Times.