MERS outbreak 'leveled off': S Korea
DIFFERENT BUSINESS: Thailand reported its first case, apparently unrelated to the spate of infections in South Korea, after a businessman carried the disease from Oman
An outbreak of Middle East respiratory syndrome (MERS) in South Korea appears to have leveled off, a health official said yesterday, as the country reported just one new patient, a day after Thailand reported its first case.
A total of 166 people have been infected in the South Korean outbreak, the largest outside Saudi Arabia. It has been traced to a 68-year-old man who returned from a business trip to the Middle East early last month.
It has spread through hospitals, killing 24 people.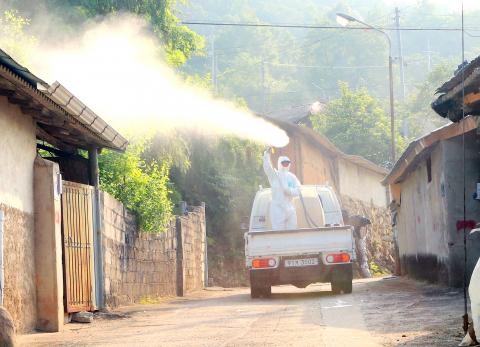 A South Korean health worker yesterday sprays antiseptic solution at a village in Sunchang County, about 240km south of Seoul, as the village was opened after two weeks of quarantine due to the outbreak of Middle East respiratory syndrome in the country.
Photo: AFP
The Thai case, a 75-year-old businessman from Oman, does not appear to be linked to the South Korean outbreak, but will spread anxiety in the region, even though the worst appears over in South Korea.
"Given the current developments, we have judged that it has leveled off, but we need to watch further spread, further cases from so-called intensive control hospitals," the South Korean health ministry's chief policy official, Kwon Deok-cheol, told a media briefing.
As part of those efforts, South Korean authorities were contacting nearly 42,000 people who had visited a hospital in the capital, Seoul, that has been at the center of the outbreak, with half of the country's infections happening there.
Authorities said they aimed to contact people who had been at the hospital, the Samsung Medical Center, between May 27-29 and June 2-10, and they raised the number of those who might have been in contact with MERS cases there to about 7,000 people.
MERS was first identified in humans in Saudi Arabia in 2012 and the majority of cases have been in the Middle East.
Isolated cases have cropped up in Asia before South Korea's outbreak began last month, and Thailand is the fourth Asian country to register a case.
The current cases in Asia have stirred fears of a repeat of a 2002-2003 outbreak of SARS, which began in China and killed about 800 people worldwide.
MERS is caused by a coronavirus from the same family as the one that triggered SARS, although MERS does not spread as easily as SARS.
South Korea's single new case reported yesterday was the smallest number since June 3, and marks a sharp drop from double-digit increases on some days last week.
The South Korean outbreak has taken a toll on Asia's fourth biggest economy, with tourists canceling visits and consumers staying at home, and has dented the popularity of South Korean President Park Geun-hye, whose government was criticized for its initial response.
Park's approval rating fell to 29 percent in a weekly poll released yesterday by Gallup Korea, the lowest since she took office in 2013.
All of the infections known to have occurred in South Korea have taken place in healthcare facilities.
The vast majority of MERS infections and deaths have been in Saudi Arabia, where more than 1,000 people have been infected since 2012 and about 454 have died.
Comments will be moderated. Keep comments relevant to the article. Remarks containing abusive and obscene language, personal attacks of any kind or promotion will be removed and the user banned. Final decision will be at the discretion of the Taipei Times.