Ukraine rebel leaders lay down law in eastern area
CAPITAL PUNISHMENT: The president of a new court said that Ukrainian law is the basis for the new legal system, which includes a reintroduction of the death penalty
Eduard Yakubovsky, a Russian citizen who favors the death penalty, is trying to become the new face of justice in rebel-held east Ukraine.
Appointed president of the "supreme court" in the self-proclaimed Donetsk People's Republic in late September, the burly former investigator from Moscow says he is busy vetting judges as he attempts to set up a legal system in the state that Kiev and the West consider illegal.
Dressed in military fatigues, Yakubovsky, 55, is a far cry from the typical image of a staid magistrate in a gown and suit.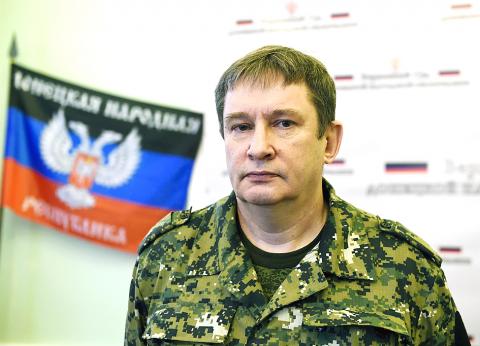 Eduard Yakubovsky, president of the "supreme court" in the self-proclaimed Donetsk People's Republic, poses in the court in Donetsk, Ukraine, on Friday.
Photo: AFP
"Believe me, at a time like this, these are the most suitable clothes for the job," Yakubovsky said in an interview at Donetsk city court.
"We haven't yet come up with a dress code for the judges that we'll swear in," he said.
The justice system collapsed in Ukraine's eastern rebel zones after the pro-Russian uprising began in April, with the rule of the gun quickly replacing the rule of law. Arbitrary and brutal punishments have been meted out by armed commanders with no oversight or accountability.
The UN in July accused rebels of conducting a "reign of fear and terror" that has seen people abducted, tortured and even executed. Since then, online videos and rumors have swirled of popular tribunals handing down death sentences at mob hearings.
Now, as the Kremlin-backed separatists tighten their grip over their territory, they are looking to give themselves the trappings of a legitimate state and greater control over the population.
Yakubovsky, who has a Russian passport, but says he has lived in Ukraine for 30 years, claims he is currently sifting through the resumes of judges and lawyers who once worked in the Ukrainian system and want to sign up to administer law under a new regime.
"At the moment, we're going through all their documents before appointing any judges," he said.
"We have to check the background of each candidate," he added.
It is not just about hiring judges — the criminal code is also a work-in-progress.
Despite being in a fight to the death with Kiev, Yakubovsky says the rebels have accepted Ukrainian law as the basis for their system "when it doesn't contradict with the our texts."
They have already introduced new laws — most notably the re-introduction of the death penalty, which was officially banned in Ukraine in 2000.
"We have the death penalty and it will be applied," Yakubovsky says. "For crimes against life, like aggravated murder, some military crimes and crimes against humanity."
Until the new legal system gets up and running, it is down to local commanders to dole out whatever justice they see fit.
"If it is a combatant from our side who has committed an offense, then the head of military police decides on the punishment," a rebel tasked with security on Donetsk's streets told reporters.
"If it is a civilian, then it is the commander of the group that arrests them that takes the decision," he said, refusing to give his name.
Particularly in their sights are drug dealers and users who they say are still operating in the region.
A man was recently arrested for taking methamphetamine and jailed for 15 days and forced to clean out all the prison cells, the rebel said.
Another individual, accused of manufacturing and selling "large amounts" of narcotics, has been in jail for three-and-a-half months awaiting trial.
Yakubovsky said that innocent people might have got caught up in the rebel dragnet. The problem is, he does not know exactly how many there are and when they will ever come to trial.
"It's true that there could be some innocent people among them," he said. "We'll see when they go to trial. If that is the case, they'll be set free."
Comments will be moderated. Keep comments relevant to the article. Remarks containing abusive and obscene language, personal attacks of any kind or promotion will be removed and the user banned. Final decision will be at the discretion of the Taipei Times.