Gaza truce stalls as death toll hits 804
FLARE-UP: Palestinian officials blamed Israeli shelling for killing 15 people sheltering at a UN-run school, while Israel said its forces were attacked by militants in the area
US Secretary of State John Kerry yesterday pressed regional proxies to nail down a Gaza ceasefire as the civilian death toll soared, threatening to spread Israeli-Palestinian bloodshed to the occupied West Bank and Jerusalem.
With Israel and Islamist Hamas setting seemingly irreconcilable terms for a truce that mediators hope will begin by a major Muslim festival next week, Kerry worked the phones from Egypt, while aides made clear his patience was limited.
The urgency was spurred on Thursday by the killing of 15 people sheltering at a UN-run school in the northern Gaza Strip, which local officials blamed on Israeli shelling.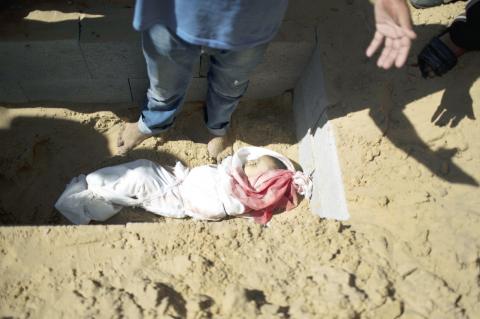 The body of one-year-old Noha Mesleh, who died of wounds sustained after a UN school in Beit Hanun was hit by an Israeli tank shell, according to local officials, is buried in Beit Lahia, northern Gaza Strip, yesterday.
Photo: AFP
Israel said its forces had come under attack from Palestinian militants in the area of the school and that they had shot back. It accused Hamas of preventing any evacuation.
An Israeli air strike yesterday killed the top spokesman for armed faction Islamic Jihad, a Hamas ally, along with his son, Gaza officials said, bringing the mostly civilian Palestinian death toll to 804.
In the occupied West Bank, where Palestinian President Mahmoud Abbas governs in uneasy coordination with Israel, about 10,000 demonstrators marched in solidarity with Gaza overnight — a scale recalling mass revolts of the past.
Protesters surged against an Israeli army checkpoint, sthrowing rocks and Molotov cocktails, and Palestinian medics said one was shot dead and 200 wounded when troops opened fire.
Israeli forces went on high alert yesterday for flare-ups at a Jerusalem mosque compound during prayers marking the final stretch of the Ramadan Muslim holy month.
Israel has lost 32 soldiers in a Gaza ground advance it says aims to destroy cross-border infiltration tunnels used by Hamas to threaten its southern villages and army bases.
Three civilians have been killed in Israel by rocket and mortar attacks from Gaza — the kind of shelling that surged last month amid Hamas anger at a crackdown on its activists in the West Bank, prompting the July 8 launch of the Israeli offensive.
Israeli Prime Minister Benjamin Netanyahu was to convene his security Cabinet yesterday to discuss a limited humanitarian truce under which Palestinian movement would be freed up to allow in aid and for casualties to be recovered.
An Israeli official said the Netanyahu government envisages the initial halt to the fighting lasting seven days, during which the army would keep digging up tunnels on Gaza's eastern frontier.
"First Israel wants to hear Hamas's response to the [Kerry] proposals," the official said, adding that some members of the security Cabinet also sought assurances that Gaza would be stripped of its remaining rockets under any extended ceasefire.
Hamas had no immediate comment. On Wednesday, its leader Khaled Meshaal voiced support for a humanitarian truce, but only if Israel eased restrictions on Gaza's 1.8 million people.
Comments will be moderated. Keep comments relevant to the article. Remarks containing abusive and obscene language, personal attacks of any kind or promotion will be removed and the user banned. Final decision will be at the discretion of the Taipei Times.