Israel hits mosque, disabled home
TOLL MOUNTS: Israel pounded Gaza for a fifth day, vowing no let-up in its air campaign to halt rocket attacks, which have killed more than 120 Palestinians
Israeli airstrikes targeting Hamas in Gaza hit a mosque and a center for the disabled where two women were killed yesterday, raising the Palestinian death toll from the offensive to more than 120, Palestinian officials said.
The Israeli military said it had struck "several terrorists conspiring to launch rockets at Israel" and that the mosque concealed rockets like those used in the barrage of nearly 700 fired by Gaza militants at Israel over the five-day offensive, while saying it was investigating claims about the other sites hit.
While there have been no fatalities in Israel from the continued rocket fire, Gaza Health Ministry spokesman Ashraf al-Kidra said overnight Israeli strikes raised the death toll there to over 120, with more than 920 wounded.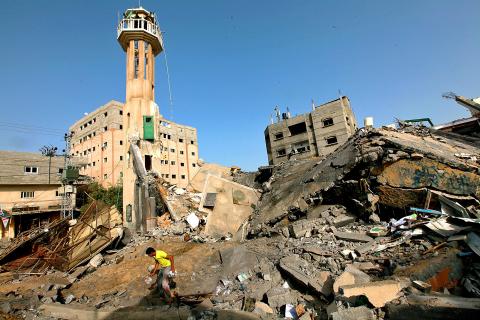 A Palestinian inspects a destroyed mosque following an airstrike on the al-Nusairat refugee camp in Gaza yesterday.
Photo: EPA
Hamas militants have been hit hard. Though the exact breakdown of casualties remains unclear, dozens of the dead also have been civilians.
Diplomatic efforts to stop the violence saw US President Barack Obama telephoning Israeli Prime Minister Benjamin Netanyahu and Washington offering to use its relationships in the Middle East to bring about a return to calm.
However, Netanyahu said on Friday that he would continue the military campaign until he achieved his goal of stopping the Hamas fire.
"No international pressure will prevent us from striking, with all force, against the terrorist organization which calls for our destruction," he told a news conference. "No terrorist target in Gaza is immune."
Hamas said Israel hit a pair of mosques in its offensive. The competing claims could not be immediately reconciled, though Hamas said it hoped the mosque attack would galvanize support in the Muslim world.
"The bombing of two mosques in Gaza overnight shows how barbaric this enemy is and how much is it hostile to Islam," said Husam Badran, a Hamas spokesman in Doha, Qatar. "This terrorism gives us the right to broaden our response to deter this occupier."
"Hamas terrorists systematically exploit and choose to put Palestinians in Gaza in harm's way and continue to locate their positions among civilian areas and mosques, proving once more their disregard for human life and holy sites," Israeli military spokesman Lieutenant Colonel Peter Lerner said.
Israel's military says it has struck more than 1,100 targets, including rocket launchers, command centers and weapon manufacturing and storage facilities. However, Gaza officials said the strikes also hit affiliated charities and banks, as well as the home for the disabled and the mosques.
Gaza militants' barrage of rockets appeared to tail off somewhat yesterday morning before a new round resumed that afternoon. The "Iron Dome," a US-funded, Israel-developed rocket defense system, has intercepted more than 130 incoming rockets, preventing any Israeli fatalities so far. A handful of Israelis have been wounded by rockets that slipped through.
The most serious strike was from a rocket that struck a gas station on Friday in the southern city of Ashdod. A house in Beersheba suffered a direct hit though the family living there was not home.
As a precaution, the US Embassy in Tel Aviv relocated its personnel assigned to Beersheba. However, militant rockets have reached further into Israel than ever before, with air raid sirens sounding even in the northern city of Haifa, 160km away.
Israel says preparations are under way for a possible ground attack, with tanks and artillery massed along the border and about 33,000 reservists mobilized out of 40,000 approved by the Cabinet.
The escalating violence brought more offers of truce negotiations from the White House on Friday.
"There are a number of relationships the United States has that we are willing to leverage in the region to try to bring about an end to the rocket fire that's originating in Gaza and, as we saw this morning, in Lebanon," White House spokesman Josh Earnest said on Friday.
He referred to taking steps as the US and Egypt did in November 2012 to broker a truce between Israel and Hamas.
Kuwait requested an emergency Arab foreign ministers meeting to discuss "the deteriorating situation," which a diplomat at the Arab League said will be held tomorrow.
Israeli strikes on residential buildings in Gaza brought a rebuke from the UN human rights office over the number of civilian casualties.
"Even when a home is identified as being used for military purposes, any attack must be proportionate... and precautions must be taken to protect civilians," UN spokeswoman Ravina Shamdasani said.
Comments will be moderated. Keep comments relevant to the article. Remarks containing abusive and obscene language, personal attacks of any kind or promotion will be removed and the user banned. Final decision will be at the discretion of the Taipei Times.