Marquis de Sade's original manuscript returns to France
The original scroll on which the infamous Marquis de Sade wrote The 120 Days of Sodom, his novel on sexual depravity, pedophilia, cruelty and murder, has returned to France.
Sade's book was written in tiny writing on a narrow 12m-long strip of parchment in just 37 days while he was imprisoned in the Bastille and hidden in his cell. It was found when the jail was stormed during the French Revolution.It has changed hands and been fought over several times in the centuries since, its ownership causing almost as much controversy as its contents.
Now the parchment, bought by a French manuscript dealer, will go on display at a private museum in Paris to mark the 200th anniversary of the author's death.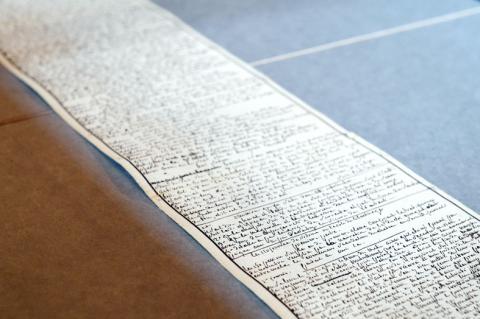 A photo taken on Wednesday at the Institut des Lettres et des Manuscrits de Paris shows the manuscript of The 120 Days of Sodom written by the Marquis de Sade while he was imprisoned at the Bastille in 1785.
Photo: AFP
Sade's work details the depraved behavior of four wealthy French libertines who rape, torture and finally murder their victims, who are mostly teenage girls in a remote medieval castle, in order to experience extreme sexual gratification.
The story remained unpublished until 1904 when it was obtained by a German psychiatrist who regarded it having scientific importance.
It has since been translated into many languages, and frequently banned as obscene. Feminist writer Andrea Dworkin has condemned it as "vile pornography" and described Sade as the embodiment of misogyny.
In 1929, the scroll was bought by a member of the Noailles family who was a direct descendant of Sade. It was later stolen, smuggled into Switzerland and sold to a collector. A furious international legal wrangle ensued with a French court ordering it to be returned to the Noailles family, only to be overruled in 1998 by a Swiss court that declared it had been bought by the collector in good faith.
It was first put on display near Geneva in 2004. Gerard Lheritier, president and founder of Aristophil, a company specializing in rare manuscripts, who bought the scroll for 7 million euros (US$9.6 million), will put it on display at the Museum of Letters and Manuscripts in Paris, which he owns.
Comments will be moderated. Keep comments relevant to the article. Remarks containing abusive and obscene language, personal attacks of any kind or promotion will be removed and the user banned. Final decision will be at the discretion of the Taipei Times.