FEATURE: Aid organizations to stay as NATO exits Afghanistan
As NATO forces pack up and shift out of Afghanistan, aid groups are determined to avoid following them, but they face rising militant attacks and uncertainty over funding.
Projects working on everything from clean water to skateboarding parks sprung up in Afghanistan after the Taliban were ousted in 2001.
Now, many Afghans fear that the end of the NATO military mission next year will see a pullout of all but the most resilient programs, putting at risk the fragile gains of the past 12 years.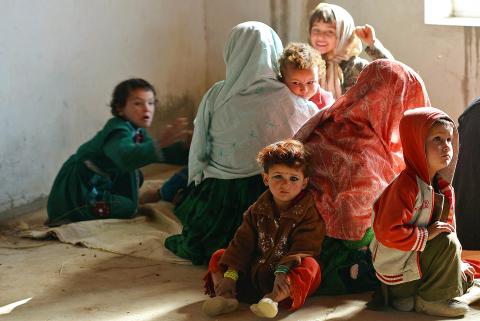 Afghan children wait to visit a doctor in a mobile clinic of the French NGO, Medical Refresher Courses for Afghans (MRCA), in Darwazagi village of Kapisa Province in the north of Kabul on Dec. 17.
Photo: AFP
"The international soldiers left here a year ago," said Noor Mohammed, an elderly man in Kapisa Province, north of Kabul. "Fortunately for us, the NGOs have stayed so far."
"We still do not have drinking water and irrigation for our fields is a major problem, so we still need help," he said.
Among the aid groups to have stayed in Kapisa is MRCA (Medical Refresher Courses for Afghans), a French organization established in 1985 that runs health programs in several provinces.
In Darwazagi village, nestled below rocky cliffs, MRCA's Afghan staff distribute drugs to treat bronchitis as the bitter winter takes hold.
Its chief of mission in Afghanistan, Valerie Docher, said it was determined to keep helping some of the country's most vulnerable people despite this year being the deadliest year for aid workers since the Taliban fell.
This year more than 30 aid workers have been killed, including six Afghan employees of the aid group ACTED, who were shot dead last month while working on rural development projects in the northern province of Faryab.
"There is no single source of problems," Docher said. "It is a multitude of challenges we face, and it is the variety that makes it so difficult to manage."
"If the militants really want to attack us, they can do so tomorrow morning. They know where we are," she added.
The Aid Workers Security Database recorded 164 attacks against NGOs worldwide, with 79 in Afghanistan, making it the world's most dangerous country even in comparison to South Sudan, Syria and Somalia.
Assassination, kidnap, robbery and the ongoing war are some of the many threats — and experts believe the violence is increasing away from the eyes of the international community.
"Where the foreign troops have withdrawn, in most of those places the fighting is worse this year than last year," Graeme Smith of the International Crisis Group said.
"That's not something that people are ready to admit around Kabul these days ... [but] the [NATO] military would admit its ability to collect numbers is just getting worse," he added.
"It does not seem like an insurgency that is slowing down," he said.
Deputy Kapisa Governor Aziz ur-Rehman Tawab insists that the Taliban have not gained ground, but he confirms that fighting in areas such as Tagab District has intensified since NATO forces pulled out a year ago.
"There is heavy fighting," he said. "The French soldiers had a significant air support to carry out their operations. Afghan forces lack helicopters, which offers more latitude to the Taliban."
Another major threat to NGO work is the failure of Afghanistan and US to sign a deal that would allow a residual force of US troops to stay after next year — a delay that could trigger a collapse in funding.
This month, NATO and US officials warned Afghan President Hamid Karzai that he must soon sign the bilateral security agreement or jeopardize millions of dollars of development aid.
Karzai is due to stand down at elections in April, and has said he may leave signing the deal to his successor — adding further confusion as NGOs try to plan for the future.
The 2009 election, which was won by Karzai, severely shook confidence in the international effort to help Afghanistan as voting was marred by violence and massive fraud.
Donors at a conference in Tokyo last year pledged US$16 billion in civilian aid until 2015 — but only on condition that corruption was tackled, rule of law strengthened and women's rights improved.
Half of the money is dispersed by the Afghan government, raising fears of lack of transparency and threatening aid workers' independent from state authorities.
"If there are problems in the election, the number of humanitarian NGOs and the funds could fall further," said Sayed Hashim Basirat, head of the government's NGO relations department.
Both the Red Cross and the International Organization for Migration were hit in major attacks by gunmen and suicide bombers this year, although the Taliban have said they do not target aid groups.
A fall in NGOs projects after next year would increase the risk of economic collapse and a return to the extremism and instability of the Taliban era.
However Acbar, an umbrella group for 120 NGOs active in Afghanistan, said its members remain defiant.
"We're here... We are really not going," Acbar director Justine Piquemal said.
Comments will be moderated. Keep comments relevant to the article. Remarks containing abusive and obscene language, personal attacks of any kind or promotion will be removed and the user banned. Final decision will be at the discretion of the Taipei Times.