Syrian official sets peace talks for Nov. 23, 24
Syrian Deputy Prime Minister Qadri Jamil yesterday said an international conference to discuss a political solution to the Syrian conflict is planned for Nov. 23 and 24.
Jamil made the announcement during a visit to Moscow, Russian media outlets reported. However, despite Jamil's remarks, it is unclear whether the conference that the US and Russia have been trying to convene for months will indeed take place.
The main Western-backed Syrian opposition group has not decided whether to attend, and many rebel fighters inside Syria flatly reject negotiating with Syrian President Bashar al-Assad's regime.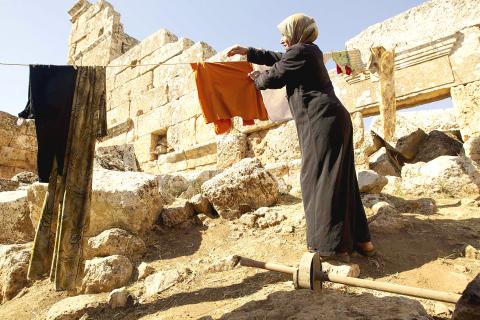 A woman hangs clothes on a clothing line in Jabal Al-Zawiya near Idlib, Syria, on Wednesday.
Photo: Reuters
Meanwhile, the government has refused to talk with the armed opposition.
UN Secretary-General Ban Ki-moon said on Wednesday that efforts are intensifying to try to hold the Geneva meeting in the middle of next month.
In related news, a team of reporters from Sky News Arabia has gone missing in the contested city of Aleppo in northern Syria, the Abu Dhabi-based channel said yesterday.
Since Syria's uprising erupted in March 2011, the country has become the most dangerous in the world for journalists, according to press freedom advocate groups. Dozens of journalists have been kidnapped and more than 25 have been killed while reporting in Syria since the conflict began.
Sky News Arabia said it lost contact on Tuesday morning with reporter Ishak Moctar, a Mauritanian national, cameraman Samir Kassab, a Lebanese national, as well as their Syrian driver whose name is being withheld at his family's request.
Sky News Arabia chief Nart Bouran says the crew was on assignment primarily to focus on the humanitarian aspects of the conflict in Aleppo. The channel appealed for any information on the team's whereabouts and for help to ensure the journalists' safe return.
Meanwhile, the world's chemical weapons watchdog said it was confident it would be able to meet deadlines to destroy Syria's toxic stockpile even though some sites are in disputed or rebel-held territory.
Inspectors from the Organisation for the Prohibition of Chemical Weapons (OPCW), which won the Nobel Peace Prize last week, have visited nearly half of more than 20 sites declared by Damascus, Malik Ellahi, special adviser to Director-General Ahmet Uzumcu, said yesterday.
"We are on track. The team is confident, the morale is high and cooperation from the Syrian authorities has been forthcoming," he said.
Under a Russian-American brokered deal, Syria has until Nov. 1 to destroy or render unusable all chemical agent production and weapon filling facilities. Ellahi said the team had been "making good progress in making those sites inoperable" by destroying equipment and facilities.
The OPCW expects to be able to access sites, including in rebel-held territory, with a joint UN mission negotiating ceasefires with forces fighting against al-Assad's government, he said.
"In terms of the security situation there are always concerns, but the team so far has had the cooperation of the Syrian authorities and managed to conduct its work unimpeded," Ellahi said.
Details of Syria's program have not been made public, but experts and Western intelligence agencies have said it has 1,000 tonnes of chemical weapons, including sarin, mustard and VX nerve agent.
"What we have verified so far has been according to the disclosure" of chemical weapons submitted to the OPCW by Syria, Ellahi told reporters in The Hague. "We have not found anything of significance which we should be worried about."
Comments will be moderated. Keep comments relevant to the article. Remarks containing abusive and obscene language, personal attacks of any kind or promotion will be removed and the user banned. Final decision will be at the discretion of the Taipei Times.