'Dear Leader' to Marilyn: a defector satirizes Kim
Above the ballooning dress of Marilyn Monroe is the face of the late North Korean leader Kim Jong-il. A pigeon flies overhead and a feather lies nearby on the ground.
North Korean artist Song Byeok once proudly drew the "Dear Leader" in propaganda paintings, but he was sent to labor in one of the reclusive state's notorious prisons after hunger forced him to try to flee.
Now a defector living in Seoul, South Korea, Song has turned to mocking a ruler who led his country into famine, isolation and economic ruin.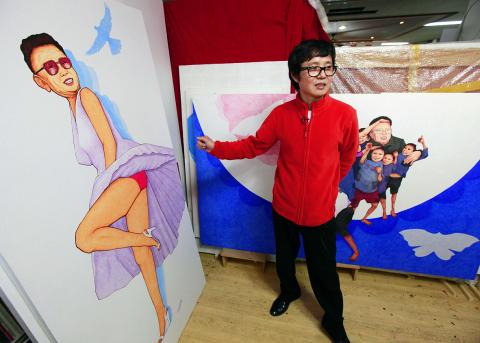 North Korean defector and painter Song Byeok explains his works during an interview at his workshop in Seoul, South Korea, on Friday.
Photo: Reuters
"The day I finished this, he passed away," Song said of his painting and the death of Kim on Dec. 17.
"He's not an eternal creature, but the same as the feather of a pigeon," Song said, using the feather to symbolize something inconsequential. "I thought it would've been better if he made North Koreans better off and forget hunger before he died."
Kim, who was 69 when he died, was a patron of the arts in his hermit kingdom and at times went to extreme means to promote the arts.
He once kidnapped a South Korean film director and forced him to make movies for him. Kim amassed a big hoard of South Korean movies on DVD and commissioned works of art.
Song never had a sitting with Kim, the second member of a dynasty that has ruled North Korea since its birth in 1948.
Every morning, he was handed a sketch of whatever piece of propaganda the state wanted illustrated that day.
"How could I, just a commoner, meet Kim Jong-il? He is the sun," the 42-year-old painter and sculptor said.
Song, like most other North -Koreans, practically worshiped Kim and before that, his father, North Korean founder Kim Il-sung.
However, starvation, a result of chronic mismanagement and natural disasters, changed that. After floods in the late 1990s, conditions deteriorated to the point of desperation.
In August 2000, Song and his father, driven by hunger, tried to swim across the Tumen River to China in the hope of getting food from relatives there.
However, his father was swept away in the swollen river and Song was caught and sent to a labor camp, the North Korean equivalent of the Soviet-era gulags, where the human rights group Amnesty International says 200,000 people are forced to work with little food and under threat of execution.
In the freezing Korean winter, Song recalls he was as lightly dressed as when he was arrested in summer.
A finger on his right hand became infected and eventually he says he was so close to death that his captors could get no work out of him and released him.
However, Song was determined to try to get out and in 2002, leaving his mother and sister behind, he made it and ended up in Seoul. After his mother died in 2005, he brought his sister and her family out in 2007 with the help of a broker in China.
"If we had had enough to eat, I would have not come," Song said.
Despite losing his finger, Song took up his brush again. Some of his paintings now show hollow-eyed North Korean girls and smiling, homeless children, known in the North as "fluttering swallows," surrounding Kim Jong-il.
As for "Great Successor" Kim Jong-un, Song said that for now, he has no plan to paint him.
"He's too young and I don't want to say yet," Song said.
Comments will be moderated. Keep comments relevant to the article. Remarks containing abusive and obscene language, personal attacks of any kind or promotion will be removed and the user banned. Final decision will be at the discretion of the Taipei Times.