Typhoon Nesat shuts down Hong Kong
BUSINESS AS USUAL: In Macau, schools and workplaces were closed, but tourists who did manage to make their way there found that some casinos remained open
Typhoon Nesat hit Hainan Island yesterday after it swept past Hong Kong, closing financial markets, schools and most businesses.
China recalled ships, suspended flights and ferry services in preparation for the typhoon, Xinhua news agency said, after it passed through the Philippines where it left at least 35 people dead and 45 missing.
"Nesat has made landfall over the northeastern part of Hainan Island this afternoon, and continues to move further away from Hong Kong," the weather service said in a statement.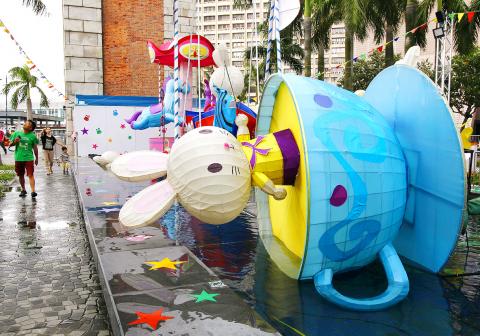 A decorative installation for seasonal celebrations is toppled by Typhoon Nesat in the Tsim Sha Tsui shopping district in Hong Kong yesterday.
Photo: Reuters
China evacuated around 58,000 people on Hainan ahead of the storm making landfall on its east coast, Xinhua said.
No deaths were reported in Hong Kong and damage was minimal, but local television showed footage of at least two people who were hospitalized after being hit by falling debris as a result of strong winds.
Several window panes from the headquarters of Hang Seng Bank in the business district fell, but no one was injured.
Financial markets were closed yesterday after the Hong Kong Observatory's No. 8 typhoon warning signal. Hong Kong has a series of different typhoon warnings. Schools, businesses and government services stop when any No. 8 or above typhoon warning is issued.
The territory saw winds of over 120kph as Nesat went past it
"The streets are empty and all the shops are closed," said Sharon Guan, a tourist who was waiting for her ferry at the China Ferry Terminal. "It's so unusual to see Hong Kong so deserted at this hour."
A ship weighing 1,677 deadweight tonnes ran aground in the early hours of yesterday, but there were no injuries, the Hong Kong Marine Department said.
Nearly 20 shelters were also set up around Hong Kong, while the government canceled public events, including the daily flag raising ceremony at Victoria Harbour.
Usually crowded streets were devoid of people as its tram system stopped operations and the subway and bus systems cut trips. Trees fallen by strong winds blocked some roads, while taxis still plying the roads asked for extra fare.
Cathay Pacific said all its flights to and from the territory were operating as normal. Hong Kong International Airport's Web site showed at least 40 departing flights were delayed or canceled.
Ferry terminals that link Hong Kong to Macau and outlying islands were also closed.
Angry tourists gathered at the Hong Kong-Macau ferry terminal, with some waiting in despair while others crowded around ticket counters demanding their money back.
"We all thought we would have a good time in Hong Kong, but it's been a disaster," said one tourist surnamed Huang. "All they want is to take our money, but when there is trouble, they disappear."
Macau was also affected, with schools and businesses closed, but the glittering casinos, including the Venetian Macau and the Wynn Macau, remained open to tourists who managed to make their way there.
Comments will be moderated. Keep comments relevant to the article. Remarks containing abusive and obscene language, personal attacks of any kind or promotion will be removed and the user banned. Final decision will be at the discretion of the Taipei Times.