Srinagar under curfew following demonstration
PROTEST AND PRAYER Police accused separatist leader Mirwatz Umar Farooq of instigating violence after Eid prayers on Saturday, but Farooq denied the accusations
India deployed thousands of security forces and slapped an indefinite curfew on Kashmir's summer capital yesterday a day after Muslims set fire to public buildings in protests against New Delhi's rule, officials said.
The government has been trying to respond to the biggest separatist demonstrations in two years in Kashmir triggered by the killing of a 17-year-old student by police in June. Seventy people have died in the ensuing protests, most from police firing into protesters.
Troops equipped with assault rifles patrolled deserted streets and blocked off lanes with razor wire and iron barricades in Srinagar, the heart of an insurgency where tens of thousands of people have been killed in two decades of violence.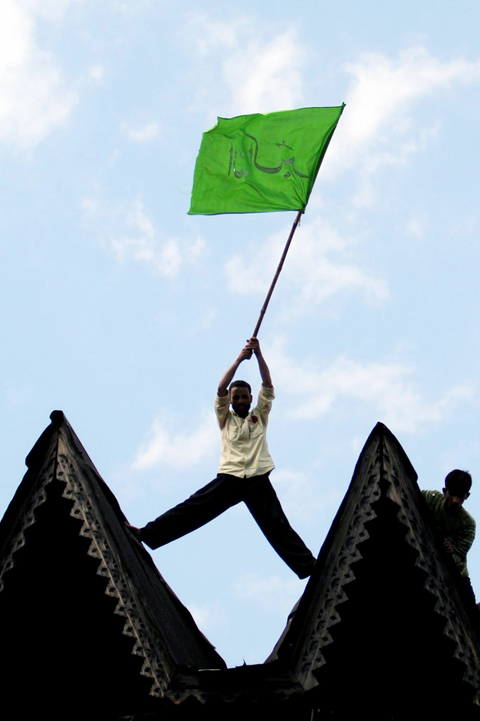 A Kashmiri Muslim protester waves an Islamic flag, while standing on top of a building during a rally on Saturday after Eid al-Fitr prayers in Srinagar, the summer capital of Indian Kashmir, India.
PHOTO: EPA
The curfew extended to other big towns in the Kashmir valley.
Jammu and Kashmir Chief Minister Omar Abdullah told NDTV news channel that the fresh violence in Muslim-majority Kashmir had dealt a setback to an anticipated new government peace initiative.
"Such protests create problems for everybody else," Abdullah said. "How can you take this move forward if violence continues?"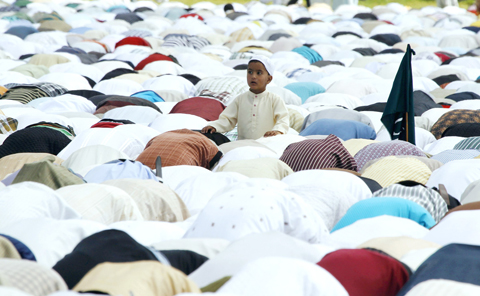 A boy sits as Kashmir Muslim men bow in prayer on Saturday during Eid al-Fitr in Srinagar, India.
PHOTO: REUTERS
Police have accused the region's main separatist leader, Mirwaiz Umar Farooq, of instigating violence and arson. Farooq denied the charges.
After Eid al-Fitr prayers to mark the end of the Ramadan fasting month, tens of thousands marched through Srinagar on Saturday, setting fire to government and police buildings. Farooq led the main demonstration.
Killings of civilians have fueled anger across Kashmir, where sentiment against New Delhi's rule runs deep. Human rights groups say India's Armed Forces Special Powers Act, which gives security forces wide powers to shoot, arrest and search in battling a separatist insurgency, further alienates people.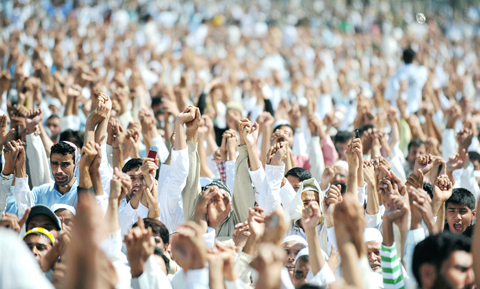 Kashmiri protesters raise their hands during an anti-India demonstration on Saturday in the streets of Srinagar, India.
PHOTO: AFP
India's Congress Party-led federal government is considering a partial relaxation of the act in Kashmir as part of a peace initiative expected in the next few days. However, no consensus has been reached on the issue yet, local media have reported.
"We don't want peace, we don't want the peace of a graveyard," Farooq said in a statement. "We want a solution of the Kashmir dispute and that will end all the problems."
Peace in Kashmir is crucial for improving relations between India and Pakistan, which are trying to revive peace talks halted after India blamed Pakistan-based militants for the 2008 Mumbai attacks.
The neighbors claim Kashmir in full though they rule it in parts and fought two of three wars over the region.
After leading a special prayer on Saturday, Farooq is said to have asked worshippers to march in Srinagar. Carrying green flags, thousands of people chanted: "We want freedom. Go India, Go Back."
Demonstrators later attacked and torched a building housing the offices of the state police and the electricity department, the police officer said.
"This is the first time that an Eid congregation has been converted into a protest," police said in a statement.
Syed Ali Shah Geelani — a key leader of the All Parties Hurriyat Conference, an umbrella organization for separatist groups espousing nonviolent struggle — demanded that India accept Kashmir as a disputed territory, withdraw hundreds of thousands of troops and release all political prisoners as a precondition for peace talks.
The Indian government did not respond to the demands.
Comments will be moderated. Keep comments relevant to the article. Remarks containing abusive and obscene language, personal attacks of any kind or promotion will be removed and the user banned. Final decision will be at the discretion of the Taipei Times.