Senate ready to clear bipartisan jobs bill
A bipartisan bill that would provide tax cuts for businesses that hire unemployed workers was headed for likely Senate passage yesterday.
A positive vote would send the legislation to the White House for US President Barack Obama's signature.
It would be the first of several election-year jobs bills promised by Democrats to be enacted into law, though there's plenty of skepticism that the measure will do much to boost hiring.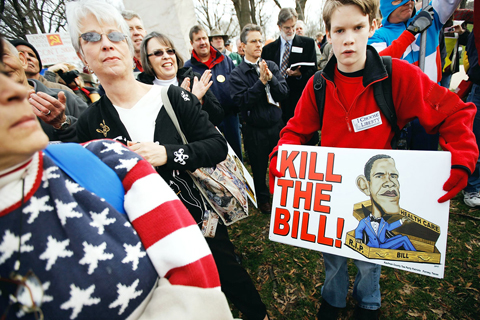 Several hundred demonstrators gather for a "CODE RED" rally on Capitol Hill in Washington on Tuesday to protest the healthcare reform bill. The rally was sponsored by the American Grass Roots Coalition and the Tea Party Express.
PHOTO: AFP/GETTY IMAGES
The bill contains about US$18 billion in tax breaks and a US$20 billion infusion of cash into highway and transit programs. It would exempt businesses that hire the unemployed from paying the 6.2 percent Social Security payroll tax through December and give employers an additional US$1,000 credit if new workers stay on the job a full year. Taxpayers would reimburse Social Security for the lost revenue.
It would also extend highway and mass transit programs through the end of the year and pump in US$20 billion in time for the spring construction season. That money would make up for lower-than-­expected gasoline tax revenues.
The measure is modest compared with last year's US$862 billion economic stimulus bill and the bulk of the hiring tax breaks would probably go to companies that were likely to hire new workers anyway.
Obama has promised to sign the measure into law.
In addition to the hiring tax incentives and highway funding, the bill would extend a tax break for small businesses buying new equipment and modestly expand an initiative that helps state and local governments finance infrastructure projects.
A far larger measure that would extend health insurance subsidies and checks for the unemployed is in the works but slow going. The measure has passed both the House of Representatives and Senate, but is hung up as the rival chambers wrangle over how to partially finance the legislation, which also would extend a variety of tax breaks for individuals and businesses.
As a result, it may require a third temporary extension of unemployment benefits, which would otherwise expire at the end of this month.
The Senate vote also comes as a House panel is to vote on a new bill designed to help small businesses. The bill would exempt long-term investments in certain small businesses from capital gains taxes and would expand a program that subsidizes interest costs paid by local governments when they borrow for construction projects.
Comments will be moderated. Keep comments relevant to the article. Remarks containing abusive and obscene language, personal attacks of any kind or promotion will be removed and the user banned. Final decision will be at the discretion of the Taipei Times.