Israeli, Egyptian leaders discuss peace efforts
CAIRO The talks were overshadowed by Israel's announcement of a tender for 700 homes in East Jerusalem. Egyptians and Palestinians were critical
Israeli Prime Minister Benjamin Netanyahu arrived in Cairo on yesterday for talks with Egyptian President Hosni Mubarak on US efforts to revive stalled Middle East peace negotiations.
Netanyahu was expected to discuss negotiations to swap hundreds of Palestinian prisoners for an Israeli soldier who has been held in the Gaza Strip for three-and-a-half years.
Egypt and Germany have been mediating those talks. Israel has relayed its response to the latest swap proposal to Gaza's militant Hamas leaders. Hamas has not yet delivered its response.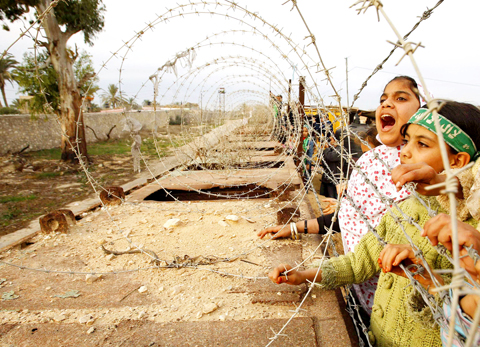 Palestinians take part in a protest near the border between the Gaza Strip and Egypt on Monday against Egypt's construction of an underground steel barrier.
PHOTO: REUTERS
But the talks were overshadowed by Israel's announcement that it had invited tenders for the construction of hundreds of new homes for Jewish settlers in annexed Arab east Jerusalem, which drew an angry rebuke from Egypt.
Egyptian Foreign Minister Ahmed Abul Gheit said that continued settlement construction by Israel in the occupied territories was "torpedoing the efforts being made to relaunch negotiations aimed at establishing a Palestinian state."
"Such behavior raises questions about the serious willingness of Israel to reach a definitive agreement and leads one to believe that Israel is trying to welch on its obligations for a just and lasting peace," he said in a statement carried by the official MENA news agency.
The Israeli government plans to build 700 homes in three Jewish neighborhoods in East Jerusalem, defying requests from the international community and the Palestinian Authority to halt construction.
All three neighborhoods are considered illegal settlements under international law, although Israel does not accept this definition.
Israel announced a 10-month partial freeze on settlement activity last month, in response to international pressure, a move that Netanyahu described as a "far-reaching and painful step."
However, the freeze does not include East Jerusalem, which was captured in the 1967 war, along with the West Bank and Gaza.
"From day one, we made a clear distinction between the West Bank and Jerusalem," said Mark Regev, the Israeli government spokesman. "Jerusalem is our capital and will remain as such."
Palestinians view East Jerusalem as the capital of their future state, and the Palestinian Authority to resume negotiations with Israel until it adheres to a complete halt on all settlement activity.
"We condemn this in the strongest possible terms," said Saeb Erekat, the chief Palestinian negotiator. "We ask Israel, 'if this is your moratorium, what is actual settlement activity?'"
Comments will be moderated. Keep comments relevant to the article. Remarks containing abusive and obscene language, personal attacks of any kind or promotion will be removed and the user banned. Final decision will be at the discretion of the Taipei Times.