Morales wins new term in Bolivia
Leftist Bolivian President Evo Morales yesterday celebrated his landslide victory in general elections, promising bolder and faster reforms and hinting he might run for a third term in office.
Speaking to followers from the balcony of the presidential palace after exit polls put him well ahead, Morales said he was happy to be re-elected and see his supporters in full control of the national Congress.
"By holding two-thirds of Congress, it is now my duty to accelerate the pace of change in Bolivia," he declared late on Sunday.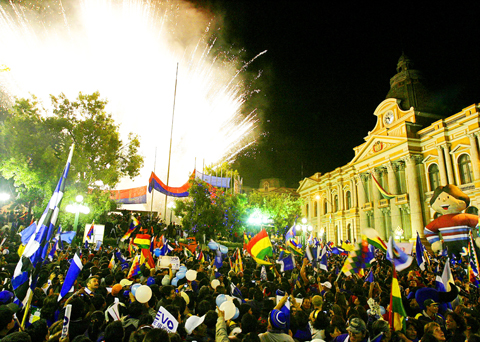 Supporters of Bolivian President Evo Morales celebrate his re-election victory in La Paz on Sunday. Morales claimed a landslide win as voters backed his left-wing reforms asserting greater state control over the economy and increasing social spending on the poor.
PHOTO: REUTERS
He said exit polls had given him 63 percent of the vote, against 24 percent to 28 percent for his conservative rival and former governor Manfred Reyes Villa.
Exit polls also confirmed Morales' boast about Congress, giving his ruling Movement Toward Socialism (MAS) party two-thirds of the seats in the Senate and Chamber of Deputies.
If confirmed, Morales would have the legislative numbers to pass laws without negotiating with the opposition.
Official results from the election were expected late today.
Morales called on the opposition to join MAS in changing Bolivian society.
"Let them come work with me. Bolivia comes first, above any demand from any group or region," Morales said, standing alongside Vice President Alvaro Garcia Linera.
Sunday's results mean Morales, a fiercely anti-US leader in the mold of his close ally, Venezuelan President Hugo Chavez, will have a free hand to deepen leftist reforms for the next five years.
Much of Morales' support came from Bolivia's indigenous majority, which makes up 60 percent of the population and is now embracing greater powers and pride after long being suppressed by the 40 percent minority of European descent.
Morales followed in Chavez's footsteps in early this year organizing a referendum to change the Constitution that scrapped a previous one-term limit for presidents and allowed him to stand for reelection.
Like Chavez, he also hinted on Sunday he intended to stay on beyond the new five-year mandate he was likely given, to see through a "revolution" that he claimed would require decades of stewardship.
"If we talk of the new Constitution ... this is the first election of Evo Morales," he said.
If Morales runs and wins in the next presidential election in 2014, he could stay in power until 2020.
Such a prospect would unsettle the US, which is wary of the close ties between Chavez and Morales.
Non-indigenous Bolivians who mostly inhabit the more prosperous lowlands in the eastern half of Bolivia, where economically vital natural gas deposits are located, would also be unhappy.
They have proved unable to counter Morales' reforms, which have already included limiting the size of ranches and other land holdings, and nationalizing the energy and telecommunications sectors.
They fear that a Congress dominated by Morales' party will now pass a law approved in the referendum that would give indigenous communities the right to self-rule. That has already been interpreted as permission to seize land from non-indigenous owners.
Tensions between the president's supporters and opponents spilled over into deadly violence late last year, though they have subsided somewhat since the January referendum that knocked Reyes Villa and other "rebel" governors from power.
Reyes Villa additionally faces a threat of jail on corruption charges voiced by Morales in the lead-up to the elections.
Comments will be moderated. Keep comments relevant to the article. Remarks containing abusive and obscene language, personal attacks of any kind or promotion will be removed and the user banned. Final decision will be at the discretion of the Taipei Times.