Thousands throng streets in Nicaragua
'USE YOUR HEAD' Security was heavy in the capital after provocative gestures earlier last week gave rise to fears of imminent clashes between pro and anti-Ortega elements
Thousands of pro and anti-­government protesters took to the streets of Nicaragua's capital on Saturday, protesting and backing Nicaraguan President Daniel Ortega's bid to remain in power.
At least 12 people were injured — three policemen and nine protesters — and some vehicles were damaged, political leaders and media said.
Chanting "Democracy yes, dictatorship no!" mainly peaceful Ortega opponents numbered at 50,000 by organizers marched in Managua against his controversial reelection plans, even as thousands of the president's supporters gathered for their own demonstration.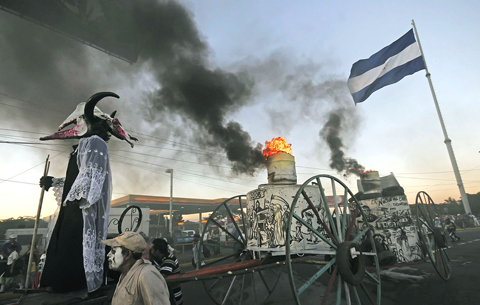 Supporters of the Sandinista National Liberation Front rally during a carnival gathering in Managua, Nicaragua, on Saturday.
PHOTO: EPA
Most of the injuries occurred when Ortega opponents, walking on the roads out of the city after their rally, clashed with government supporters who were converging for their own march, the political leaders and local reports said.
Security was heavy in the capital following provocative gestures earlier in the week by both sides, which suggested there could be clashes between the two demonstrating groups when they march in the city.
Addressing pro-government marchers, Ortega made an appeal for calm, telling his opponents: "We don't expect you to say that you love us, but simply use your head … instability and confrontation is not the way to go."
Many in the opposition event waved blue-and-white Nicaragua national flags. They included supporters of opposition political parties, thousands of whom flooded into the city from the countryside to protest, as well as business groups and representatives of the powerful Catholic Church.
"We do not want violence," read one banner held up during the 6km march that culminated at the offices of the Supreme Court. Among the demonstrators were former president Arnoldo Aleman and former world boxing champion Alexis Arguello.
"This is a triumph for democracy," said Violeta Granera, director of the civil society group Movement for Nicaragua. She accused Ortega of "abuse of power" and of wanting to "dismantle the fragile [public] institutions."
The two marches originally had been called for the same time on nearly the same route, but the risk of violence prompted the pro-­government rally to be moved to the afternoon.
More than 7,000 police, including heavily armed riot police, were deployed in the capital to ensure order.
The opposition demonstration concluded without serious incident in the city's southeast, but Managua remained tense as several thousand Sandinistas gathered to show their support for Ortega.
At least one homemade mortar was fired into the air at the Sandinista march, and several young men were seen marching with bandanas covering their faces.
The government said it hoped to bring some 300,000 people out into the streets to outshine the opposition march, but local media reported far smaller numbers.
Thousands were seen filing into the city, however, to lend support to Ortega and his bid for more victories against the conservatives, which were voted out of power three years ago.
Ortega led the 1979 Sandinista uprising that ousted the regime of US-backed dictator Anastasio Somoza, after 45 years of oppressive rule.
The leftist Ortega, who served as president from 1985 to 1990, was elected to office again in 2006.
Tension has been building since the ruling Sandinista party's crushing win in mayoral elections a year ago, which the opposition charged were riddled with fraud, and a Supreme Court ruling last month that cleared the way for Ortega to seek reelection in 2011.
Ortega defended his right to reelection, saying: "only the people can decide with their vote" who will be the next president. He warned that the Sandinista party "will not let itself be shackled ever again."
Securing the ability to seek reelection has been a key strategy for leftist regional allies like Venezuelan President Hugo Chavez, Ecuadorean President Rafael Correa in Ecuador and Bolivian President Evo Morales in Bolivia, among others. President Manuel Zelaya in Honduras was thought to have been developing such plans when an army-backed coup toppled him in June.
Comments will be moderated. Keep comments relevant to the article. Remarks containing abusive and obscene language, personal attacks of any kind or promotion will be removed and the user banned. Final decision will be at the discretion of the Taipei Times.