Pressure grows on Guantanamo
'THE USE OF FEAR' The US Congress has withheld money from the Obama administration to close Guantanamo prison and demanded a detailed plan
Top former US military officials are lobbying for US President Barack Obama to advance plans to close the controversial military prison at Guantanamo Bay, Cuba.
Working with the human rights group Human Rights First, more than a dozen former US military officials are meeting this week with top Obama officials including Attorney General Holder, Pentagon officials and lawmakers to press them to quickly close the Guantanamo prison, which has been the target of international condemnation.
The officials on Tuesday sought to counter arguments made by critics of the closure plan.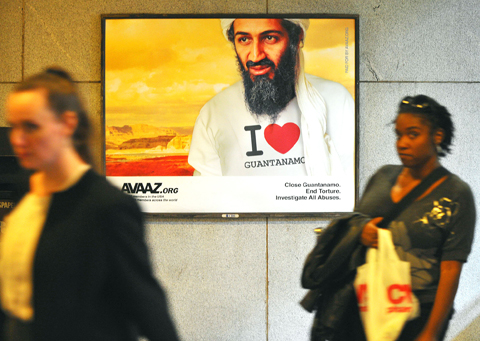 A billboard at the Farragut North Metro station in Washington displays an image of al-Qaeda chief Osama bin Laden wearing an ''I love Guantanamo'' T-shirt in this undated picture. Inspired by sustained support for an end to torture from the world community and a clear majority of Americans, Avaaz.org has launched a metro billboard ad campaign to remind policymakers that torture is illegal, unethical and a top recruiting tool for bin Laden and his al-Qaeda network.
PHOTO: AFP
"It's the use of fear that I find so disturbing," retired Army General David Maddox said, adding that no terrorism suspects or convicts have escaped from jail and that the detainees would not be released into the US after they served their sentences.
Obama pledged to close the facility by Jan. 22 next year, but has run into political, legal and diplomatic obstacles which could delay the closure. That has allowed a fierce debate to fill the breach as the administration tries to tackle those issues.
The administration is near selecting a place inside the US to move the terrorism suspects from Guantanamo, some of whom will face charges in military tribunals or US criminal courts, but that has sparked several concerns.
Some congressional Republicans question whether US prisons can accommodate terrorism suspects and warn that their presence in prisons in the US could cause attacks. But Obama officials and Democrats have said 200 individuals convicted on terrorism charges are already in US prisons.
So far, Congress has withheld money from the administration to close Guantanamo and demanded a detailed plan before allowing the detainees to be brought to US soil for permanent detention.
Failing to follow through on his pledge to quickly close the prison — one of his first acts after taking office on Jan. 21 — could hurt Obama's standing with his more liberal backers and put his future agenda at risk.
"There are just lots of issues that fear is being used inappropriately so we wanted to come back together again and try to help put the record straight," Maddox said.
Administration officials have declined to identify the final options for housing the detainees in the US, but one official has said two possibilities were likely out: a maximum-security prison in Standish, Michigan, set to close, and Fort Leavenworth, Kansas where opposition was fierce.
"Most of the opposition has been 'not in my backyard,'" retired Lieutenant General Charles Otstott said.
One problem that has also plagued the administration is that confessions by some of the 223 detainees now at Guantanamo were obtained through coercion, such as pouring water on them to simulate drowning, a technique known as waterboarding.
The military officials said that prosecutors may still be able to charge them with crimes that were not admitted to in the confessions. They may also have other evidence in hand.
Already, the Department of Justice transferred one detainee from Guantanamo to New York to face charges in a criminal court — Ahmed Khalfan Ghailani, who has been accused of involvement in the 1998 bombings of US embassies in Tanzania and Kenya that killed 224 people.
Comments will be moderated. Keep comments relevant to the article. Remarks containing abusive and obscene language, personal attacks of any kind or promotion will be removed and the user banned. Final decision will be at the discretion of the Taipei Times.