Cuban TV shows video of fitter-looking Fidel Castro
Former Cuban leader Fidel Castro, who is recovering from major intestinal surgery, appeared on Sunday in the first new video of him in 14 months, joking and chatting with Venezuelan students.
Castro was shown in the video wearing a track suit and in an animated conversation with a group of law students from Venezuela's University of Carabobo who came to visit him at his home on Saturday.
He met with them for three hours, Cuban TV, which aired the video on Sunday, said.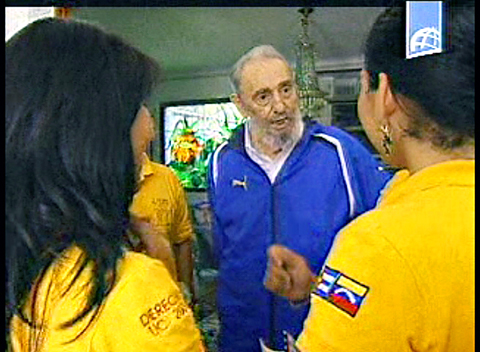 A TV grab from a video shot on Saturday and released by Cuban TV on Sunday in Havana shows former Cuban leader Fidel Castro, center, talking to Venezuelan law students. It was the first new video of Castro in 14 months.
PHOTO: AFP/TV CUBANA
Castro was seen discussing global warming and telling the students "we are witnessing very, very, very grave developments, I would say grave for our very survival."
"Even the Pentagon has put global warming among the things that threaten the security of the United States," he said.
The students presented Castro with a T-shirt and sang, "We love you, Fidel. We love you."
Castro told the students that Cuba stands by Venezuelan President Hugo Chavez's government. Chavez is a close friend and ally of Castro's.
Castro turned 83 this month. He fell ill in July 2006 and the government later said he had gastrointestinal surgery.
He has not made a public appearance since then, and until recently photographs of him have showed him looking thin and frail, always dressed in a track suit.
Cuba's state-run press occasionally publishes photographs of Castro with visitors, but news of his health is considered a state secret.
Castro also often publishes essays on global affairs. His latest, on the US debate over health care coverage, appeared last week.
But recent visitors have reported that Castro, who is still the chief of the Cuban Communist Party, was looking stronger and fitter.
In a photograph carried in the state-run media on Saturday, taken during a meeting with visiting Ecuadoran President Rafael Correa, Castro was standing, a touch fuller of face and in a bit more formal looking collared shirt.
The last time Cuban TV aired video footage of Castro was June 18 last year when he was shown briefly alongside Chavez.
Chavez, who flew to Havana earlier this month to meet with Castro, said on his return home that Castro had "fully recovered" from the illness that had forced him to cede power to his brother, Raul, 78.
Chavez said he was surprised to see Castro stay up until 8pm to toast with wine and eat cake to celebrate his 83rd birthday, along with his wife, children, grandchildren and Raul.
Comments will be moderated. Keep comments relevant to the article. Remarks containing abusive and obscene language, personal attacks of any kind or promotion will be removed and the user banned. Final decision will be at the discretion of the Taipei Times.