Wildfires still a threat north of Athens
DEVASTATION Six fires were raging across Greece, including the city of Marathon, with the mayor accusing the government of lacking a plan to fight the wildfires
An overnight drop in gale-force winds offered hard-pressed Greek firefighters a brief respite yesterday after wildfires raged unchecked for two days north of Athens, burning houses and swathes of forest while forcing thousands to flee their homes.
But the winds were forecast to resume by midday, whipping flames up to 10m high through highly flammable pine forests.
Fire Brigade officials cautioned that the fires still threatened inhabited areas on the capital's northern fringes, the eastern coastal town of Nea Makri and nearby Marathon — site of one of history's most famous battlegrounds.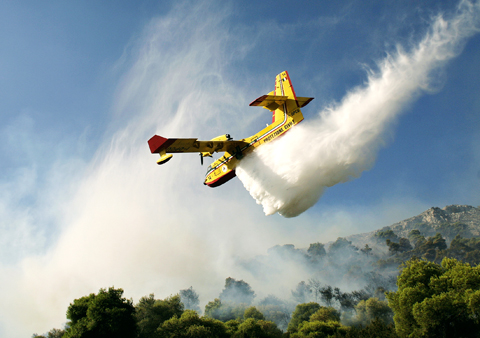 A plane drops water on a burning forest in Nea Makri, near Athens, Greece, yesterday.
PHOTO: AP
"There are fewer hazardous points," Fire Brigade spokesman Yiannis Kappakis said. "But the blaze is still developing."
Several houses have been gutted but there were no reports of deaths or injuries in what the Fire Brigade is calling a "mega-wildfire." There was huge damage to the countryside, however, with thousands of hectares of the area's rapidly dwindling forests gone.
In Nea Makri, south of Marathon, local authorities said a blaze stretching for 4km was tearing down a hillside toward some houses, and a dozen nuns were evacuated from a nearby Christian Orthodox convent.
"The situation is tragic right now, there's a huge fire coming our way" Nea Makri Mayor Iordanis Louizos said. "There is nothing we can do ... but wait for the [water-dropping] planes at dawn."
Officials said 17 water-dropping planes and helicopters resumed operations at first light yesterday, while aircraft from France, Italy and Cyprus were due to join in the effort.
More than 2,000 firefighters, soldiers and volunteers are fighting the blaze on the ground.
Officials have not said what started the fire. Hundreds of forest blazes plague Greece every summer and many are set intentionally — often by unscrupulous land developers or animal farmers seeking to expand their grazing land.
In many afflicted areas, despairing residents pleaded for firefighters and equipment that were nowhere to be seen.
On Sunday, thousands of residents of Athens' northern outskirts evacuated their homes, fleeing in cars or on foot. The fire destroyed several houses as it advanced across an area more than 50km in circumference.
Six major fires were burning early yesterday across Greece. The Athens blaze started north of Marathon plain and spread over Mount Penteli — on the city's limit to the north — threatening outlying suburbs.
Driven by gale-force winds, the blaze grew fastest near Marathon, from which the long-distance foot race takes its name, born from a legendary run after the 490BC Athenian victory over an invading Persian army.
A guard at the nearby Museum of Marathon said the fire at one point came within 45m of the building, whose exhibits include weapons and skeletons from the battle. However, its main front was moving south toward Nea Makri.
The fire also threatened the ancient town of Rhamnus, home to two 2,500-year-old temples.
The mayor of Marathon, Spyros Zagaris, said he had been "begging the government to send over planes and helicopters" to no avail.
"There are only two fire engines here; three houses are already on fire and we are just watching helplessly," Zagaris told Greek TV.
Zagaris was among several local leaders who accused the government of having no plan to fight the fire.
Greek Finance Minister Yiannis Papathanassiou responded: "This is not the time for criticism under these tragic conditions. We are fighting a difficult fight."
Another official said emergency workers were exhausted.
"The firefighters, soldiers and volunteers fighting the fire are tired and their equipment is being used constantly and there is fatigue there too," Deputy Interior Minister Christos Markoyiannakis said.
Opposition politicians have been restrained in their criticism so far.
But both Communist Party leader Aleka Papariga and Giorgos Karatzaferis, head of populist right-wing Popular Orthodox Rally, said the government had learned nothing from the catastrophic summer fires of 2007, when 76 people died and several villages were totally destroyed in southern Greece.
A shift in wind helped halt the flames in the town of Agios Stefanos, a township on the fringes of Athens on the opposite side of Mount Penteli from Marathon. Most of its 10,000 inhabitants had evacuated on Sunday afternoon.
About 15,000 hectares of forest, brush and olive groves have burned, Athens prefect Yiannis Sgouros said.
Comments will be moderated. Keep comments relevant to the article. Remarks containing abusive and obscene language, personal attacks of any kind or promotion will be removed and the user banned. Final decision will be at the discretion of the Taipei Times.