Beach cliff collapses, kills at least five in Portugal
At least five people died when a cliff collapsed onto a packed beach in southern Portugal, officials said on Friday, as rescuers using pickaxes and mechanical diggers searched the rubble for victims.
The five dead included a 60-year-old man who suffered a cardiac arrest, a woman, 38, who died of her injuries in hospital, and three other women, two under 25 and one in her fifties, said the Portuguese emergency services.
The nationalities of the victims were not yet known.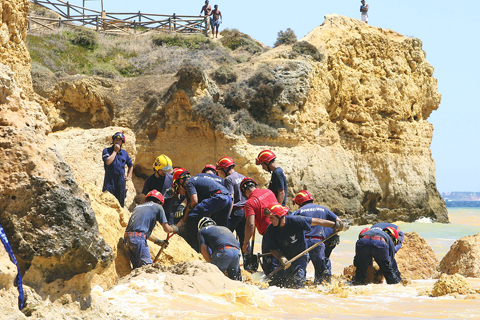 Rescue workers search through debris of a landslide at Maria Luisa beach in Albufeira, on Portugal's southern coast of Algarve, on Friday.
PHOTO: AFP
"The Civil Protection authority is continuing to remove victims," the statement said.
Another three people who had been caught by the falling rubble were hospitalized with serious injuries, the statement said.
Police officers and firefighters were still searching for people who might be trapped under the debris at Albufeira, an Algarve resort popular with local and foreign tourists as well as celebrities.
The authorities, however, could not give a figure for the number that might be missing and the search was hampered by the afternoon high tide, which left most of the beach underwater.
People on the beach described the panic after a massive crash and huge clouds of dust engulfed holidaymakers, said a report by the Portuguese Lusa news agency.
"Part of the cliff came down around noon," one witness told the agency. "Rocks crashed onto the beach up to the sea causing great panic."
Another witness, who gave his name as Joaquim Ribeiro, said he saw a "a huge wave of dust, followed by a deafening noise."
"It was like a plane crashing, people started screaming," he said.
Police cordoned off the beach, several kilometers from the town center. TV channels showed mechanical diggers and bulldozers clearing sand and rocks from the beach.
A medical station treated people with minor injuries and a psychological support team was also on hand, the Civil Protection authority said.
Portuguese President Anibal Cavaco Silva, on holiday in the area, visited the beach for a first-hand assessment of the situation.
Portuguese Prime Minister Jose Socrates cleared his desk to travel to the scene and Portuguese Interior Minister Rui Pereira was also due to join them.
Comments will be moderated. Keep comments relevant to the article. Remarks containing abusive and obscene language, personal attacks of any kind or promotion will be removed and the user banned. Final decision will be at the discretion of the Taipei Times.