Putin's Abkhazia plans stoke Caucasus tensions
FLASH POINT The Russian prime minister said Moscow would spend up to US$500 million beefing up its military presence in the disputed breakaway republic
Russian Prime Minister Vladimir Putin stoked tensions in the tinderbox Caucasus region on Wednesday, saying Moscow would spend nearly US$500 million next year beefing up its military presence in Georgia's breakaway republic of Abkhazia.
Putin's announcement raised the specter of Russian and US frigates patrolling the same patch of water in the Black Sea.
Much of the money is expected to fund construction of a new naval base in the Abkhaz town of Ochamchira, within striking distance of Georgia's Poti and Batumi ports, which have been visited by US warships since the war in Georgia last summer. An existing Russian air base further north in Gudauta is also likely to be enlarged. The plans enraged Georgia, just a day after Russian President Dmitry Medvedev irked the leadership of another post-Soviet foe, Ukraine.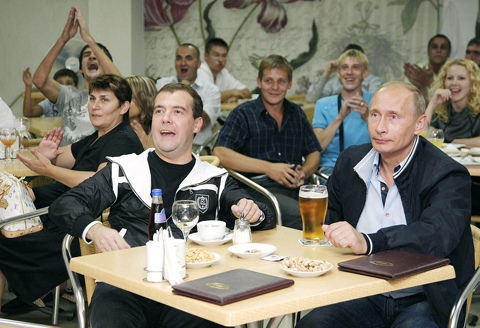 Russian President Dmitry Medvedev, left, and Russian Prime Minister Vladimir Putin watch a live broadcast of Russia's international friendly soccer match against Argentina in a cafe at the Black Sea resort of Sochi, Russia, on Wednesday.
PHOTO: EPA
Kiev responded angrily when Medvedev wrote a letter to Ukrainian President Viktor Yushchenko accusing his country of distorting history, discriminating against Russian speakers and "obstructing" Russia's Black Sea fleet.
The Kremlin had already mooted plans for military expansion into Abkhazia, but Putin confirmed the scale of the budget yesterday.
"We will allot a very large amount of money — 15 billion roubles (US$464 million) to 16 billion roubles — for the development of our military base and strengthening of Abkhazia's state border next year," he told reporters, prior to visiting the republic. "This is an additional and serious guarantee of the security of Abkhazia and South Ossetia."
Tension between Russia and Georgia has been high since they marked the first anniversary of their five-day war in South Ossetia last week.
In an interview, Georgian Deputy Foreign Minister Alexander Nalbandov said Russia's military expansion into Abkhazia violated the peace agreement brokered by French President Nicolas Sarkozy.
"This is an illegal initiative on occupied territory and we call on the international community to condemn it," Nalbandov said.
NATO is increasingly nervous at Russia extending its power beyond its borders and expressed "concern" earlier this year over reports that Russia planned to increase its military footprint in Abkhazia.
Only Russia and Nicaragua have recognized Abkhazia and South Ossetia as independent and under international law the construction of bases on what is officially Georgian territory would be illegal.
However, protests are likely to fall on deaf ears. The Kremlin has made it clear it will sign bilateral agreements with both republics as "partner states" as it sees fit. A deal on military and economic cooperation was signed with both regions in November last year.
James Nixey, a Russian foreign policy expert at the Royal Institute of International Affairs in London, said Moscow's bullish stance toward US allies Georgia and Ukraine showed the West's attempts to "reset" relations with Russia were "on the point of failure."
"The common thread here is ultimately power projection," he said. "The most important part of Russian foreign policy is to be a regional leader, to have a kind of lordship over the neighborhood. It wants to play a controlling influence in all of the former Soviet states."
Moscow had expected less explicit US support for Ukraine and Georgia under US President Barack Obama and was now letting its displeasure be known, said Nixey.
"We're seeing an incremental ratcheting up of the tension, which is how we got to where we were back in the Bush administration," he said.
Comments will be moderated. Keep comments relevant to the article. Remarks containing abusive and obscene language, personal attacks of any kind or promotion will be removed and the user banned. Final decision will be at the discretion of the Taipei Times.