Scuffles mark Melbourne film festival
SCREENING: Rebiya Kadeer entered the venue via a side door amid tight security. Officials said the numbers of supporters and detractors were smaller than expected
Pro-China protesters and Uighur activists argued outside an Australian film screening yesterday, each side condemning the other as "terrorists" who incited violence in restive Xinjiang region.
Police had to break up a heated exchange between supporters of exiled Uighur leader Rebiya Kadeer and detractors who said Beijing was right to label her a "criminal" who started last month's violence that left at least 197 dead.
Dozens of protesters from either side rallied outside the 1,500-seat Melbourne Town Hall, where a sell-out screening was underway of 10 Conditions of Love, a film about Kadeer's life, at which she was the guest of honor.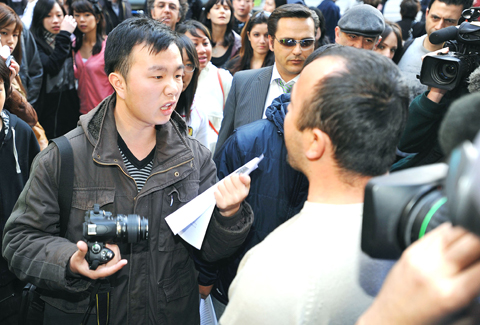 Chinese demonstrators argue with an Australian Uighur outside the premiere of a film about the life of exiled Uighur leader Rabiya Kadeer at the Melbourne International Film Festival yesterday. Australia defended the visit by Kadeer, who told about 100 flag-waving demonstrators that Beijing lied about last month's deadly violence in the Xinjiang region.
PHOTO: AFP
"Two thousand years ago China was there [in Xinjiang]," yelled Stanley Li, objecting to the Kadeer biopic and her presence inside the venue.
"It's not appropriate to show this film in public," he said, according to the AAP newswire.
"I care about these people in China and they are being killed by terrorists," added pro-China demonstrator Bruce Jiang.
Uighur advocate Hikmat Hason countered with an accusation that Li and his group were the terrorists, sparking a heated row which had to be broken up by police, AAP said.
Uighur supporters carried the blue and white flag of the independence movement of East Turkestan, the name by which the movement refers to Xinjiang.
One female supporter briefly clashed with a pro-China protester and had to be separated by police, witnesses said.
Kadeer, exiled head of the World Uyghur Congress, was escorted through the back door of the venue under tight security, organizers for the Melbourne International Film Festival said.
Police said there were extra officers on hand to deal with an anticipated crowd of up to 100 people, but the gathering had been relatively small and peaceful and no arrests had been made.
"It was all a bit of a non-event, it wasn't anywhere near as big as anticipated," a spokeswoman said.
The screening was moved to the Town Hall earlier this week due to unprecedented demand for tickets, fuelled by intense controversy surrounding the film and Kadeer's visit, to which Beijing strongly objected.
Beijing had urged Australia not to give Kadeer a visa, and all Chinese films and funding were withdrawn from the festival program after it refused to pull the Kadeer biopic. The film festival's Web site has twice been hit by cyber attacks mounted from China.
Australian Foreign Minister Stephen Smith on Friday defended Kadeer's visit, but assured China that Australia did not necessarily agree with her views and respected China's "territorial integrity and sovereignty" over Xinjiang.
Comments will be moderated. Keep comments relevant to the article. Remarks containing abusive and obscene language, personal attacks of any kind or promotion will be removed and the user banned. Final decision will be at the discretion of the Taipei Times.