South Korean police storm plant occupied by striking workers
Police commandos descending from a helicopter-borne shipping container stormed a South Korean auto plant yesterday, seizing all but one facility in the compound where hundreds of workers have held out for months in a battle over a company survival plan.
YTN television showed footage of the dramatic raid at Ssangyong Motor's Pyeongtaek factory, which came after commandos overran other buildings the day before in an effort to end a standoff that has threatened the company with insolvency.
Ssangyong has been in court-approved bankruptcy protection since February amid falling sales and mounting red ink.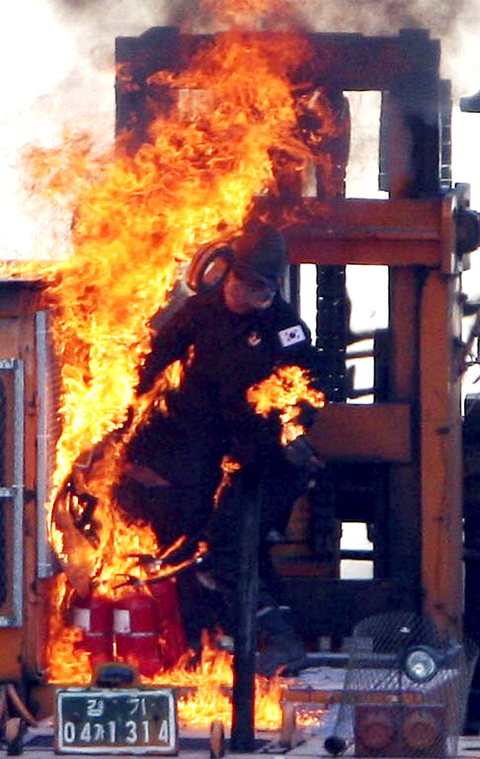 Temporary guards hired by Ssangyong Motor run after being hit by Molotov cocktails thrown by striking workers yesterday. Police had stormed a factory in Pyeongtaek, South Korea, that workers had occupied for 76 days.
PHOTO: REUTERS
Troubles have deepened in the past two months, with hundreds of dismissed workers occupying the factory's paint shop — said to be packed with flammable materials such as paint and thinner — to protest massive layoffs.
Commandos stormed the roof of one of the factory's two paint shop buildings by descending from a black shipping container carried by helicopter. Some others rappeled down a rope from another helicopter.
A pitched battle ensued with helmet-wearing workers fighting back with sticks and throwing objects at the shield-wielding police.
Commandos also fired a water cannon from the container as it was suspended above the roof.
A Gyeonggi provincial police officer said about 100 commandos stormed the roof while 300 riot police launched an assault on the paint shop with ladders.
The officer, who spoke on condition of anonymity in line with office policy, said police had secured one of the buildings.
He said protesters fled and two were injured as they tried to escape down ladders. YTN reported that about 30 people on both sides suffered injuries.
Yesterday's raid still left hundreds of protesters in one of the paint shop buildings, with police taking control of the rest of the compound in Pyeongtaek, about 70km south of Seoul.
Up to 500 people were still in the facility, said Lee Won-muk, a Ssangyong spokesman.
Police are not considering raiding the building immediately.
"We will take some time to think about going in there," National Police Agency chief Kang Hee-rak told reporters, adding that he hopes the company's union and management will reach a compromise on the dispute.
The flammable materials have raised fears of an inferno if there is a full-blown police assault, which seems to have weighed heavily on police willingness to move in.
Workers have used slingshots and molotov cocktails against approaching riot police, who have responded by dropping tear gas from helicopters.
Estimates by police have put the number of people occupying the paint shop at up to 600.
Ssangyong said on Tuesday that between 500 and 540 people were still occupying the shop after about 100 gave up on Sunday and another 17 on Tuesday.
Union spokesman Lee Chang-kun said on Tuesday that a police assault on the paint shop would be deadly.
Comments will be moderated. Keep comments relevant to the article. Remarks containing abusive and obscene language, personal attacks of any kind or promotion will be removed and the user banned. Final decision will be at the discretion of the Taipei Times.