Moldovans go to the polls in key parliamentary vote
Three months after accusations of government vote-rigging touched off street violence, Moldovans began voting yesterday in parliamentary elections that could shift the former Soviet republic's focus away from Russia and toward the EU.
Polls suggested the ruling Communist Party was leading with about 31 percent, but analysts said four pro-European parties could win a combined 33 percent and form an alliance to elect the impoverished country's next president and move the country toward the West.
About one in four of the nation's 2.6 million eligible voters were still undecided, a June 26 to July 10 poll by the Institute for Public Politics showed. It gave a margin of error of plus or minus 2.5 percentage points.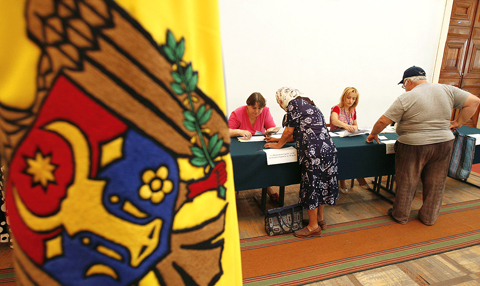 Moldovan citizens wait to cast their ballots in a snap parliamentary election at a polling station in Chisinau yesterday.
PHOTO: REUTERS
Moldova has been in political paralysis since April 5 parliamentary elections sparked violent protests, with the opposition claiming the balloting was rigged.
At least three people were killed and hundreds of others arrested after protesters — some of whom used the social network Twitter to organize after cellphone networks went down — stormed parliament and the offices of Moldovan President Vladimir Voronin.
Yesterday's election was overshadowed by the world economic downturn, which has exacted a heavy toll on Moldova. The country's average monthly wage is only US$350 and the IMF has warned that its GDP will tumble by 9 percent this year.
"On one hand, we either have European integration, or if the Communist Party continues in power, then we have the same situation as we had up to now: no proper reforms, only political statements that do not correspond to reality," said Vlad Lupan, a political analyst.
The Communist Party, led by Voronin — who has been president since 2001 — took the most votes in April's election but failed to win enough parliamentary seats to elect a successor. Voronin already has served the maximum two terms.
After the protests, opposition parties boycotted the vote in parliament for a new leader. Twice, lawmakers failed to vote in a president. That led to parliament being dissolved, which in turn triggered the latest elections. Parties need to win at least 5 percent of the vote to earn a seat in parliament.
Although few expect a repeat of April's violence — in part because a harsh crackdown has intimidated many opposition supporters — tensions were high ahead of the vote.
Early yesterday, unknown people were stopping voters casting their ballot in the village of Corjova, which is located in a separatist region, although the mayor is loyal to the government in Chisinau, the Central Electoral Committee said. Some 1,500 residents are eligible to vote there.
If the four main opposition parties win a majority of parliament's 101 seats, they are likely to form an alliance which would realign the country with the EU.
More than 3,000 foreign and Moldovan observers were monitoring the elections.
Comments will be moderated. Keep comments relevant to the article. Remarks containing abusive and obscene language, personal attacks of any kind or promotion will be removed and the user banned. Final decision will be at the discretion of the Taipei Times.