S Africa council workers strike for a second day
POLITICAL RISK: Workers marched through the streets of Johannesburg, overturning garbage cans, chanting revolutionary songs and vowing not to return to work
South African council workers went into a second day of strikes for higher pay yesterday in the latest stand-off between President Jacob Zuma and labor unions that helped him to power in April.
Thousands of council workers boycotted work on Monday, demanding a 15 percent wage hike as the country grapples with its first economic recession since 1992, which the ruling African National Congress' labor union allies say has hit hardest South Africa's poor.
The South African Municipal Workers Union and Independent Municipal and Allied Trade Union, representing some 150,000 council workers, have rejected an 11.5 percent wage increase.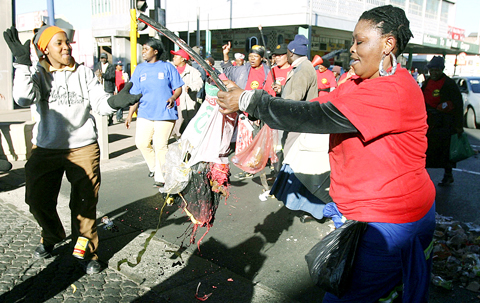 A municipal worker dumps garbage on the street during a strike in Johannesburg, South Africa, on Monday.
PHOTO: REUTERS
Striking workers marched through the streets of Johannesburg's city center on Monday, overturning garbage bins, chanting revolutionary songs and vowing not to return to their jobs until their demands are met.
Protest marches also took place in other main cities and police fired rubber bullets in some instances to disperse unruly union members.
South Africa's financial markets have not yet suffered from the strike, but analysts say prolonged action could start to weigh.
"Such an event would cause investors to become more aware of political risk," said Alvise Marino, emerging market analyst at IDEAglobal.
Investors are also keenly watching the stand-off, which could add pressure on Zuma to meet unions demands for more social spending.
Zuma said last week it is not unusual for workers to strike this time of the year when wage talks are taking place but called for a speedy conclusion to negotiations.
In a statement issued late on Monday, the local government running Johannesburg — the country's biggest city — said rubbish collection, bus, water, parks and revenue services had all been disrupted. But emergency services were operating at full capacity despite the strike.
It said some of its 87 health clinics had also experienced problems.
A man who identified himself as Gabriel told radio station Talk Radio 702 how he had not been able to bury his two-month-old daughter because the cemetery was closed by the labour action.
The strike by public transport workers, refuse collectors and licensing officers among others, follows days of violent protests by residents of impoverished townships who have complained about lack of healthcare, water and electricity.
Workers in the chemical sector have also been on strike for higher pay and unions in the gold and coal sectors was to announce yesterday whether to accept an improved wage offer.
Stoppages would impact some of the world's biggest mines.
Comments will be moderated. Keep comments relevant to the article. Remarks containing abusive and obscene language, personal attacks of any kind or promotion will be removed and the user banned. Final decision will be at the discretion of the Taipei Times.