Mumbai gunman reverses his plea
SHOCK: Asked why he had suddenly confessed, Ajmal Kasab said it was because of evidence provided by Pakistan naming him as a participant in the Mumbai attacks
The lone surviving gunman in the Mumbai attacks delivered a surprise confession at his trial, saying he was recruited by a militant group while he was looking for training to become a professional robber.
Ajmal Kasab's confession on Monday bolstered India's charges that terrorist groups in Pakistan were behind the attack in which 166 people died, severely straining relations between the countries.
During his confession, Kasab described how he sprayed gunfire at commuters while a comrade hurled grenades inside a railway station.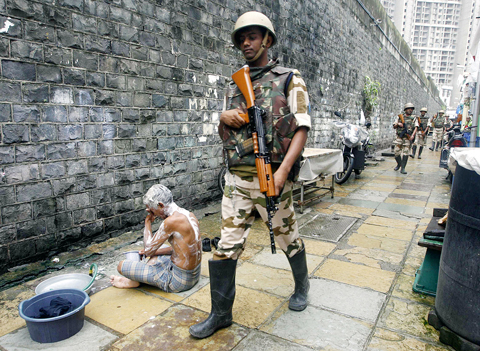 Troops patrol an area around Arthur Road Jail in Mumbai, India, on Monday, where Ajmal Kasab, the lone surviving gunman of the Mumbai attacks, is being held.
PHOTO: REUTERS
"I was in front of Abu Ismail who had taken such a position that no one could see him," Kasab told the court.
"We both fired, Abu Ismail and I. We fired on the public," he said.
Kasab, a Pakistani who had consistently denied a role in the rampage, reversed his plea without warning, shocking even his lawyer.
Kasab described how four men — some of them known leaders of the Islamic extremist group Lashkar-e-Taiba — sent him and his fellow attackers to Mumbai from Pakistan.
They traveled by boat arriving on Nov. 26 in Mumbai, where they unleashed three days of mayhem. The 10 gunmen, armed with automatic rifles and grenades, split into pairs and killed people at a railway station, a Jewish center, a hospital and two five-star hotels.
Kasab faces the death penalty if convicted.
As the 66th day of his trial started on Monday morning, he stood up just as a prosecution witness was to take the stand, and addressed the judge.
"Sir, I plead guilty to my crime," the 21-year-old said, triggering a collective gasp in the courtroom.
After a debate on the legality of such a confession, Kasab's statement was recorded, and the judge said he would have Kasab sign each page of the document, which would be reviewed by his lawyer, formally reversing his plea from innocent to guilty.
Kasab said he and Abu Ismail went to the Chatrapati Shivaji railway station in a taxi and left a bomb in the vehicle.
"I went to the restroom and attached a battery to a bomb and put it in a bag. Abu followed me to restroom and I asked him what I should do with the bomb," Kasab said.
"'Let's see,' Abu told me," he said.
They moved to the railroad station hall, packed with commuters.
Abu Ismail put the bag near a pillar and stood close to a wall where they began shooting at people. Soon, policemen joined the fight. The bomb never exploded.
"I was firing and Abu was hurling hand grenades ... I fired at a policeman after which there was no firing from the police side," Kasab said.
From the railway station the two went to Cama hospital. A few more were killed there. The pair then went to the Chowpatty beach in a hijacked vehicle where Ismail was killed and Kasab was captured.
He was treated for wounds and has since been held in Mumbai's Arthur Road Jail where the trial is being conducted.
"There is no pressure on me. I am making the statement of my own will," he said.
As part of the confession, he told how he became involved with Lashkar-e-Taiba. He said he had become unhappy with his low wages as a shop assistant and left for Rawalpindi with the intention of becoming a professional robber.
While in Rawalpindi, he and a friend decided to seek out the mujahedeen, who they thought could help train them as bandits.
Before being sent to India, Kasab said he lived in a house in Karachi for a month-and-a-half with 10 other young men. All were transferred to another home and taken to sea where they met four handlers.
Last week, Pakistan gave a dossier to India providing evidence of Lashkar-e-Taiba's role in the attack and naming Kasab as a participant.
Asked by judge M.L. Tahiliyani why he had confessed, Kasab said it was because of the evidence provided by the Pakistani government.
"If Pakistan has accepted me as its citizen, then end this case and punish me for my crime," he said.
Comments will be moderated. Keep comments relevant to the article. Remarks containing abusive and obscene language, personal attacks of any kind or promotion will be removed and the user banned. Final decision will be at the discretion of the Taipei Times.