Astronauts install 'porch' on space station
FLOATING WORLD The final unit of Japan's Kibo laboratory, which provides direct vacuum access, was put in place during a space walk of almost six hours
Two astronauts from the US shuttle Endeavour have successfully completed the first of five scheduled spacewalks aimed at completing a Japanese laboratory at the International Space Station, NASA said.
Tim Kopra, who made his first spacewalk, and Dave Wolf, an old hand with four walks under his belt, returned to the space station's decompression chamber and closed the airlock at 9:51pm GMT on Saturday, 37 minutes ahead of schedule, NASA reported.
The duo's spacewalk lasted five hours and 32 minutes, US space agency officials said.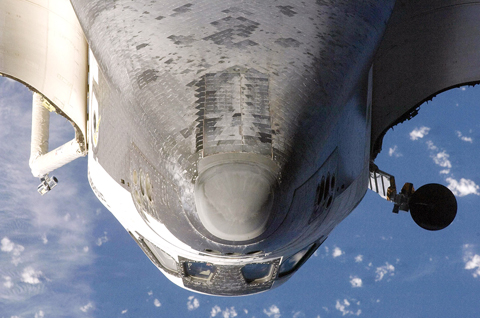 An image provided by NASA shows the space shuttle Endeavour prior to docking with the International Space Station on Friday.
PHOTO: REUTERS
"The third and final piece of Japan's Kibo laboratory was assembled on orbit Saturday, a symphony of robotic and spacewalking performances by the 13-member orchestra aboard the International Space Station complex," NASA said in a statement.
The 1.9-tonne unit, known as the Japanese Exposed Facility (JEF), will serve "as a type of porch for experiments that require direct exposure to space," NASA said.
From inside the space station, astronauts Koichi Wakata and Doug Hurley used the station's Canadarm2 to grasp the JEF unit and lift it out of the Endeavour payload bay.
"They handed the facility to the shuttle's Canadarm and moved the station's arm into position for installation. The shuttle arm handed off the new Kibo component to the station arm, and then the station arm was used to move the new 'porch' into position for installation to the Kibo pressurized module," NASA said.
Earlier, on their first full day in space, the Endeavour crew of six Americans and one Canadian tested rendezvous equipment, installed a camera for the orbiter docking system and extended the docking ring that sits on top of the system.
The shuttle successfully docked at the space station on Friday amid questions about the integrity of the shuttle's heat shield tiles.
However, NASA on Saturday said that a close analysis of pictures of Endeavour's heat shield confirmed the absence of any damage.
The entry of Endeavour's crew aboard the space station brought the number of astronauts inside the orbiting space station to a record 13.
Comments will be moderated. Keep comments relevant to the article. Remarks containing abusive and obscene language, personal attacks of any kind or promotion will be removed and the user banned. Final decision will be at the discretion of the Taipei Times.