Falun Gong, 10 years after the ban
Ten years after China banned the Falun Gong spiritual movement, the two sides are waging a battle both at home and abroad where the Buddhist-inspired group has become a thorn in Beijing's side.
Falun Gong has taken its case straight to the Western street, where rallies highlighting the group's signature breathing exercises and grisly photos of purported victims of China's crackdown have become a fixture.
Falun Gong has tried to show its strength ahead of the anniversary of China's ban on July 20, 1999, with thousands of supporters converging on Washington in yellow shirts for public speeches, prayers and vigils.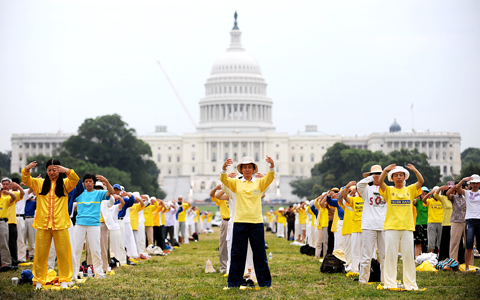 Hundreds of Falun Gong practioners mark the 10th anniversary of the group being outlawed in China at the National Mall in Washington on Saturday.
PHOTO: AFP
Sixty-two members of the US Congress signed a letter to US President Barack Obama to denounce "one of the most unjust and cruel persecutions of our times."
The lawmakers called on the Obama administration to speak out to China to end "the extreme brutality of the persecution faced by Falun Gong practitioners."
Even for China, which in the past two years has witnessed deadly unrest involving Uighur and Tibetan minorities, Falun Gong remains an especially sensitive topic and is rarely mentioned by state media.
Unveiled in 1992 by Li Hongzhi (李洪志), who now lives quietly in the New York area, Falun Gong emphasizes moral teachings and slow-motion exercises and was once encouraged by Chinese authorities to ease the burden on a creaky health system.
However, aghast after thousands of Falun Gong supporters gathered in Beijing to protest against persecution, then Chinese president Jiang Zemin (江澤民) issued orders in 1999 to eliminate the group. China later declared it an "evil cult."
Falun Gong says that more than 3,200 practitioners have since died from persecution and that Chinese authorities have harvested their organs.
While it is impossible to independently verify each case, Falun Gong supporters and relatives speak of constant monitoring and harassment.
MISSING MOTHER
Jin Pang, 26, a Chinese student in the US, said her mother was taken away with some 100 other Falun Gong practitioners in Weifang, Shandong Province, in July last year ahead of the Beijing Olympics. She has not heard from her mother since.
Jin, who has sought help from dozens of US politicians, fears the worst. She said police held her mother for 11 days in 2001 and beat her with electric batons that burned her body. She said her mother was freed after police demanded 2,000 yuan (US$300) from the family.
"They were forcing my mom to give up her beliefs but she refused. She said we believe in truthfulness, compassion and tolerance," she said, referring to the Falun Gong motto.
"She said that we didn't do anything wrong — violence cannot persuade us," she said.
China has a history of folk religious movements spiraling into threats to central authority. As many as 25 million people were believed killed in the 19th-century Taiping Rebellion led by a Christian convert in what remains one of the deadliest conflicts in world history.
Ethan Gutmann, the author of a forthcoming book on Falun Gong, said that unlike even the Buddhist Tibetans, no elements within Falun Gong have resorted to violence.
But Gutmann, an adjunct fellow at the Foundation for Defense of Democracies, a Washington think-tank, said Chinese authorities nonetheless feared Falun Gong more than any other domestic group.
Besides mobilizing thousands of people globally, Falun Gong has continued to get its message out through a media empire.
A pro-Falun Gong TV network, New Tang Dynasty, broadcasts around the clock worldwide and a newspaper, the Epoch Times, publishes in 17 languages. The newspaper may be best known for the heckling of Chinese President Hu Jintao (胡錦濤) by one of its reporters in the middle of a White House visit in 2006.
'REAL THREAT'
"From the Chinese Communist Party's perspective, they're not really wrong here — they are a real threat at this point," Gutmann said of Falun Gong.
But the Falun Gong remains deeply controversial among Chinese, even among those who are no fans of the communist system.
Wei Jingsheng (魏京生), one of China's most-respected pro-democracy dissidents in exile, criticized Beijing for its "crude suppression" of the Falun Gong.
"Fortunately, for both Falun Gong and the Chinese democracy movement, there are a lot of people overseas, thus the Chinese Communist Party cannot destroy them completely," Wei said.
But he cautioned that while Falun Gong "has a positive impact on society," if "a small portion of them go extreme, it would be similar to other fundamentalists."
Comments will be moderated. Keep comments relevant to the article. Remarks containing abusive and obscene language, personal attacks of any kind or promotion will be removed and the user banned. Final decision will be at the discretion of the Taipei Times.