Brown defends UK role in Afghanistan
DEATH TOLL The British prime minister and a top military official said British troops are winning the battle against Taliban forces even as bombs claimed more lives
British Prime Minister Gordon Brown insisted on Saturday that Britain had the right strategy in Afghanistan after British military deaths surpassed the number of dead in the Iraq campaign.
Brown said the last few days had been "extraordinarily difficult" as British fatalities rose to 184 with the announcement on Friday that eight men had been killed in a 24-hour period.
But he said British troops were winning the battle against Taliban insurgents in their heartlands of Helmand Province in southern Afghanistan.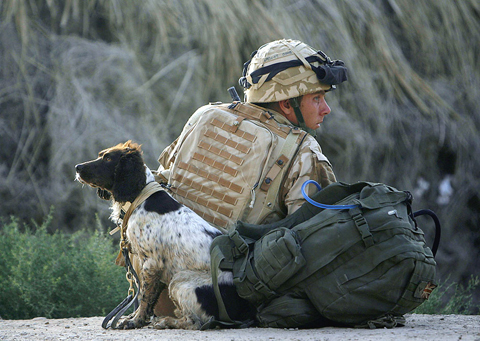 A British soldier from 3 SCOTS rests with his dog on Friday after taking over a Taliban compound in Helmand Province, Afghanistan, during Operation Panther's Claw.
PHOTO: REUTERS
Meanwhile US President Barack Obama said Britain's role in Afghanistan was "critical" and his "heart goes out" to those soldiers killed.
Brown wrote in a letter to lawmakers: "While I know there are some who have questioned our strategy, I continue to believe our strategy is the right one.
"I can report the assessment of commanders on the ground: that the current operations are succeeding in their objectives," he wrote.
"They are having a marked impact on the Taliban in central Helmand, will improve security for the population in the run-up to the elections, and will allow longer-term work on governance and development to begin," he wrote.
Obama paid tribute to Britain's "extraordinary" contribution in Afghanistan.
"My heart goes out to those British soldiers," he told Sky News TV.
"We knew that this summer was going to be tough fighting, that there was an interest in the Taliban exerting control. They have, I think, been pushed back but we still have a long way to go," he said.
"Great Britain has played an extraordinary role in this coalition, understanding that we can not allow either Afghanistan or Pakistan to be a safe haven for al-Qaeda, those who with impunity blow up train stations in London or buildings in New York," he said.
"The likelihood of a terrorist attack in London is at least as high if not higher than it is in the United States," he said.
"We've got a serious fight on our hands and we've got to deal with it smartly but we've got to deal with it effectively," Obama said.
A total of 15 British soldiers have died in 10 days in southern Afghanistan as troops carry out Operation Panther's Claw in Helmand.
The aim of the operation is to improve security ahead of next month's Afghan elections. Britain has raised its troop numbers to 9,000 ahead of the vote.
The head of the military, Air Chief Marshal Jock Stirrup, insisted the Taliban were losing the fight.
"It's tough going because the Taliban have rightly identified Helmand as their vital ground," Stirrup said on Friday.
"If they lose there then they lose everywhere and they are throwing everything they have into it. But they are losing and our commanders on the ground are very clear of that," he said.
The majority of British deaths in recent months were caused by powerful roadside bombs laid by insurgents, raising concerns that troops are forced to use lightly armored vehicles which fail to resist the blasts.
Brown said he was aware of "particular concerns over vehicles" but argued that Britain had spent £1 billion (US$1.6 billion) in the past three years on heavily armored Mastiff vehicles "which offer world-leading protection against mines and roadside bombs".
The Stop the War Coalition has announced an emergency protest in London today, calling for British troops to be withdrawn from Afghanistan after the recent losses.
Meanwhile, international troops and Afghan police killed 12 Taliban insurgents in a gunbattle in Uruzgan Province, police said yesterday.
The joint force attacked a compound north of the capital of Uruzgan, where the militants were hiding on Saturday evening, sparking the fighting, police spokesman Mohammad Musa said. He said no Afghan police or international troops were killed.
In Kunar Province, one civilian was killed and five wounded when shelling from a gunbattle between insurgents and Afghan and international forces hit a house.
Provincial Police Chief General Abdul Jalal Jalal said everyone in the house had initially survived Saturday's blast, but one man died from his injuries after being rushed to a hospital. Jalal said it was unclear which side fired the shots that hit the house.
Also Saturday, at least six police officers were killed by roadside bombs — two in Helmand and at least four south of Kabul in Logar Province, officials said.
Police officers are regular targets of Taliban and other insurgents.
Comments will be moderated. Keep comments relevant to the article. Remarks containing abusive and obscene language, personal attacks of any kind or promotion will be removed and the user banned. Final decision will be at the discretion of the Taipei Times.