Deforestation does not aid long-term growth: report
Chopping down the Amazon rainforest to make way for crops or cattle has no economic or social benefit for local people in the long term, according to a major new study. The finding undercuts the argument that deforestation, which causes 20 percent of the globe's greenhouse gas emissions, leads to long-term development.
Conservationists found that communities develop rapidly when forests are cleared. But rates of development quickly fall back below national average levels when the loggers move on and local resources become depleted.
Almost 155,000km² of Amazonian rainforest in Brazil have been cleared for timber, or burned to make way for agricultural land, since 2000. Every year, 1.8 million hectares are destroyed. The Amazonian rainforest is one of the most biodiverse regions in the world, guarding against climate change by absorbing carbon dioxide.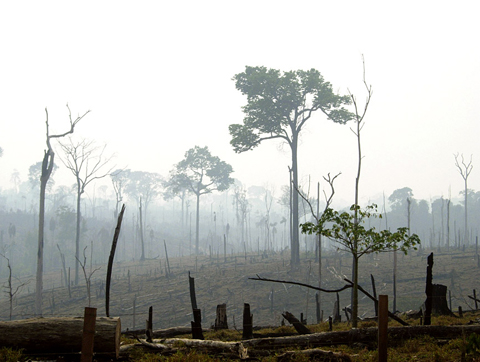 An undated photograph released on Thursday shows a deforested stretch of the Brazilian Amazon. A new study says deforestation brings some short-term benefits, but once the timber is gone the economy suffers.
PHOTO: REUTERS
A study by scientists based on 286 areas around the Brazilian Amazon and published yesterday in Science magazine, said that the cycle of growth, then stagnation, occurred because at first, the newly available natural resources in an area of cleared forest attract investment and infrastructure. New roads can lead to improved access to education and medicine, and increased overall income gives people better living conditions.
But once the timber has gone, things change.
"A lot of the agricultural land is only productive for a few years, so once you lose that, you also lose a source of income," said Rob Ewers of the department of life sciences at Imperial College London.
Comments will be moderated. Keep comments relevant to the article. Remarks containing abusive and obscene language, personal attacks of any kind or promotion will be removed and the user banned. Final decision will be at the discretion of the Taipei Times.