Congo town mounts own force against rebels
Rebels from the Lord's Resistance Army sent torture victims — including a man whose back was sliced with a machete — to warn the people of Bangadi in the Democratic Republic of Congo (DR Congo) they would be next.
The town's three policemen fled and there was no response from the military and UN peacekeepers to the increasingly panicked pleas for help. That's when residents realized they were on their own.
"We were sending warnings and begging for help practically every day for two weeks. And nothing happened," community leader Nicolas Akoyo Efudha said. "We finally understood that we were abandoned — in danger and without protection."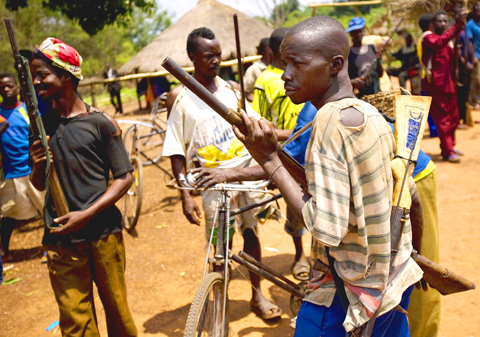 Vigilantes, some armed with homemade guns, gather in the streets of Bangadi, about 40km from the Democratic Republic of Congo's border with Sudan.
PHOTO: AP
So Akoyo called a town meeting and told everyone to bring whatever weapons they had: pre-World War II rifles, homemade shotguns, lances, swords, machetes, hunting knives, bows with sheaths of poisoned arrows.
The women came armed with kitchen knives and log-sized wooden pestles used to pound yams into flour.
Since then, the residents of Bangadi have successfully driven off two attacks by the Ugandan rebels, who have killed at least 900 people in this remote northeastern corner of DR Congo over the past seven weeks.
News of Bangadi's success — and the lack of military protection — have spurred hundreds of villages to form self-defense groups, said Avril Benoit, a spokeswoman for Medecins Sans Frontieres.
The ragtag groups are filling a security vacuum as DR Congo tries to recover from back-to-back civil wars that devastated the central African nation over nearly a decade.
Aid workers and human rights activists are watching the phenomenon with trepidation. In a part of DR Congo with dozens of militias and rebels, they fear these self-­defense groups could transform into a menacing force.
DR Congo's army, cobbled together from various rebel groups and the defeated troops of ousted dictator Mobutu Sese Seko, has never been cohesive and has suffered repeated defeats at the hands of the rebels. The UN has 17,000 peacekeepers in DR Congo, but it has been largely ineffective in a country more than twice the size of California and Texas combined.
The Lord's Resistance Army has been waging an insurgency in northern Uganda for more than 20 years, and the conflict spilled over into DR Congo about five years ago.
Before dawn on Oct. 19, Bangadi became the rebels' target.
They descended first on the former abbey on the outskirts of town, killing its residents.
But as the fighters tried to advance, they were surprised by more than a half-dozen ambushes by residents armed with makeshift weapons, some hiding in ditches. Before the rebels reached the central market, they had been defeated and took flight.
Akoyo said residents counted 43 rebels who came into town. Seven got away and the rest were killed, he said. The civilian toll was 16 dead.
Today, the abbey is abandoned. Survivors, along with thousands of people from surrounding villages, are camped in Bangadi; its population has exploded from 15,000 to 35,000.
About 30km outside Bangadi lies evidence of what happens when there is no one to resist an attack by the Lord's Resistance Army: About 2km of huts along a dirt track have been burned to the ground.
For months after the October attack, the rebels steered clear of Bangadi. Then, after a combined military operation by forces from DR Congo, Uganda and Sudan began in December, aid groups say the rebels began massacring civilians in retaliation.
In coordinated attacks on three towns, the rebels killed hundreds of people in just three days, aid workers and the UN said.
More than 900 have been killed since Christmas in the region of Haut-Uele, in northeastern DR Congo.
Bangadi residents were particularly alarmed by the story told by the sole survivor of a massacre in a village where rebels locked people into the church, Akoyo said.
The rebels saved their bullets and brought the victims out two by two. Some were bludgeoned to death while others had their throats slit with machetes, said the man, who escaped death because he was busy in his field and arrived at the church service late.
Last month, maimed victims of rebel attacks began arriving again in Bangadi. Again, residents sent out urgent calls for help, using the town's sole satellite phone and its high-frequency radio.
There had been no response by Jan. 22, when the rebels struck Bangadi for a second time.
By then, the self-defense group had swelled to 350, including Teke Mbanga, a 20-year-old refugee from Kana village whose parents, 13 siblings and other family members were slaughtered by the rebels.
The townspeople chased the rebels out, pursuing them for about a kilometer) until they disappeared into the savannah. There were no civilian casualties and the group even managed to rescue six abducted people.
One man bragged of skinning one of the rebels. Asked if he was alive at the time, he looked sheepishly away.
"It was the people's anger that led to this revenge. We had the bodies of our families scattered about us," said the man, who didn't want his name used for fear of rebel reprisals.
Comments will be moderated. Keep comments relevant to the article. Remarks containing abusive and obscene language, personal attacks of any kind or promotion will be removed and the user banned. Final decision will be at the discretion of the Taipei Times.