Death toll from helicopter crash in Gabon increases
At least seven French soldiers have died and one remained missing after an army transport helicopter crashed off the coast of Gabon, officials said on Sunday.
The Cougar helicopter was carrying 10 soldiers, including six special forces paratroopers, when it went down shortly after take-off from the French carrier La Foudre on Saturday during military exercises with the west African country.
The French military earlier announced that rescuers had pulled three survivors and a body from sea. However one survivor died in hospital in the Gabonese capital, Libreville, the French army said.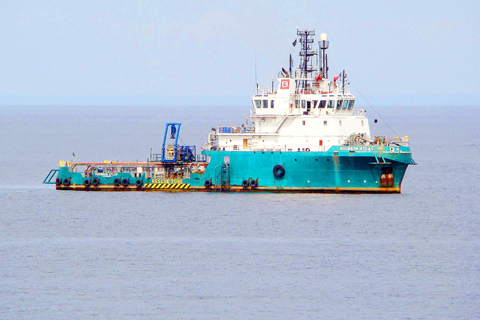 The French multi-purpose platform supply vessel Bourbon Atlas searches the zone where a helicopter crashed into Atlantic waters during a training exercise off Gabon's coast near Libreville yesterday.
PHOTO: AP
Divers later found the bodies of several missing soldiers and pulled them from the wreckage, located early on Sunday at a depth of 35m, the French government said.
"Unfortunately, we must report the deaths of five other soldiers. A final soldier remains missing. Searches are continuing," the French presidency said in a statement.
"We will do everything we can to find the last person missing," French Defense Minister Herve Morin said following talks with President Omar Bongo in Libreville.
Rescuers had been scouring for survivors off the coast of Nyonie, a town half-way between the Gabonese capital and the port city of Port-Gentil.
Oil giant Total lent a sonar and underwater robot to a salvage team that helped them locate the wreckage, according to the French government. It also sent three vessels to help in the rescue effort.
There was no information on the cause of the crash, but French President Nicolas Sarkozy has ordered a speedy inquiry, the presidency said. Sarkozy also sent his condolences to the victims' families.
"There is nothing to allow us to understand the cause of the accident," Morin said. "There could be different causes, possibly material causes, possibly human causes, possibly a combination of causes. We don't know more."
He said there would be two probes, a judicial one and another by the French defense ministry.
Shortly after arriving in Gabon on Sunday, Morin took a helicopter to La Foudre to monitor rescue efforts that included the Gabonese military.
Comments will be moderated. Keep comments relevant to the article. Remarks containing abusive and obscene language, personal attacks of any kind or promotion will be removed and the user banned. Final decision will be at the discretion of the Taipei Times.