FEATURE: Bangladeshis get that awful sinking feeling
FROM FISHERMAN TO FARMER Jaber Ahmed, who moved to the higher ground of Hoaikong 10 years ago, says some think the land is sinking, others that the sea is rising
In the mountainous village of Hoaikong in southeastern Bangladesh, villagers are used to welcoming new residents on a weekly basis.
The once sparsely populated jungle, home to only a handful of tribal families, houses some 2,000 people who have sought higher ground as the island where they once lived becomes increasingly submerged by the sea.
Former fisherman Jaber Ahmed, who has turned his hand to farming crops in his new environment, said there are two camps of thought among islanders as to why they have had to migrate inland.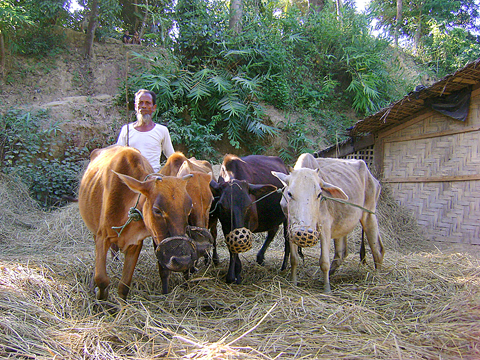 Fisherman turned farmer Jaber Ahmed poses with some of his livestock in the village of Hoaikong, Bangladesh, on Tuesday.
PHOTO: AFP
"Some of us think that the land is sinking. Others say the sea is rising," the 55-year-old said. "To be honest, I have no idea. All I know is we had to move our homes to survive."
Ahmed moved from the island 10 years ago and has watched as former neighbors follow his lead.
"I was one of the first here when my home on the edge of the island disappeared. Slowly more followed. Now it's happening more and more and our old island is disappearing under the sea," he said.
Ahmed's story is a familiar tale on Bangladesh's southern coast, where locals and climate experts say islands at the country's edge, as well as its coastline on the Bay of Bengal, are shrinking.
Although the villagers say they do not know the exact cause of the problem, experts are more sure.
Scientists — including those from the UN Intergovernmental Panel on Climate Change (IPCC) — say the number of climate refugees will increase in Bangladesh in the coming years as rising sea levels devour low-lying coastal areas of the delta country.
The plight of people like Jaber Ahmed is at the top of the agenda for a Bangladeshi delegation representing the impoverished nation during climate change talks from Dec. 1 to Dec. 12 in Poznan, Poland.
Professor Atiq Rahman, a highly acclaimed Bangladeshi climate specialist, is among those attending the summit.
He said richer nations would be forced to open their countries up to climate refugees as land becomes scarce in the densely populated nation.
"Bangladeshis are already being displaced because of climate change. It's not happening in the distant future. It's happening now," he said. "Being displaced is just one of the problems of rising sea levels. People will lose their livelihoods, food security will be under threat and so will water security."
Impoverished Bangladesh, Rahman said, is one of the lowest emitters of harmful carbon dioxide, but is one of the worst affected by the effects of climate change.
The Nobel prize-winning IPCC, which Rahman was a member of, says there will be 20 million people like Jaber Ahmed by 2050 because of an increase of extreme weather conditions caused by climate change.
James Hansen, director of the US-based NASA Goddard Institute for Space Studies, says Bangladesh's entire 144 million population will become environmental refugees by the end of the century because its entire landmass will be under water.
In September, the Bangladeshi government launched a campaign against rich countries, saying they needed to cough up billions of dollars to help it, one of the poorest nations in the world, fight climate change.
Britain, the only country to respond thus far, pledged £75 million (US$106 million) and called on all nations to thrash out a new global warming agreement.
About 8,000 delegates from 190 countries will be at the Poland talks this month to discuss UN commitments beyond 2012, when pledges under the Kyoto Protocol expire, to be ratified in Copenhagen, Denmark, next year.
The remote jungle of rural Bangladesh is a long way from the Polish capital, but farmer Jaber Ahmed says he hopes the world's leaders know about the problems people like him have faced.
He says, for him, though, it is too late to do anything to save his old home and — too scared of the possibility of natural disasters — he will never return to that place.
"I don't think I'll be back alongside the coast before I die," he said. "For now, it's OK. I'm safe up here in the hills. I just hope not too many people come or we may be forced to move again."
Comments will be moderated. Keep comments relevant to the article. Remarks containing abusive and obscene language, personal attacks of any kind or promotion will be removed and the user banned. Final decision will be at the discretion of the Taipei Times.