European nations push to help DR Congo
PREPARING THE GROUND France, Belgium and Sweden are considering how to arrive in DR Congo ahead of UN peacekeepers to secure roads for humanitarian aid delivery
Several European nations are pushing to send personnel to Democratic Republic of Congo (DR Congo) to help secure humanitarian aid to bolster the UN Security Council's expected addition of 3,100 troops to its beleaguered peacekeeping mission, diplomats said on Wednesday.
France, Belgium and Sweden are considering how to give DR Congo added help by arriving ahead of UN peacekeepers and securing areas around Goma, the provincial capital of North Kivu Province, and roads needed to distribute food and other humanitarian aid, French Ambassador Jean-Maurice Ripert said.
Once the council approves the additional peacekeeping troops "it will then be easier for the EU to try to see what they can do on the purely humanitarian side," said Ripert, whose nation holds the EU presidency.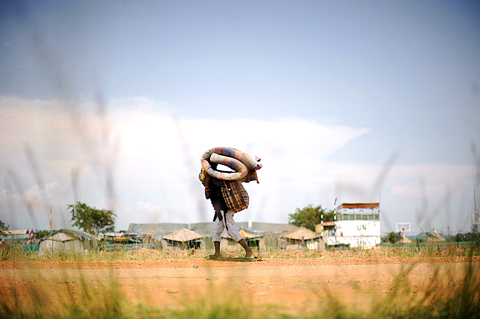 A boy carries some of his family's belongings as he and a small group of residents of the North Kivu town of Nyanzale arrive at a UN peacekeepers base in the town of Rwindi, DR Congo, on Wednesday.
PHOTO: AFP
The council was expected to approve a French-sponsored resolution yesterday that would make good on UN Secretary-General Ban Ki-moon's request for the additional soldiers to beef up the UN peacekeeping force on a temporary basis. Ban's top envoy to DR Congo, Alan Doss, recommended the increase more than a month ago.
Several African nations such as Senegal, Kenya and Angola are among those that could contribute extra troops, council diplomats said, speaking on condition of anonymity because talks are still under way.
The peacekeeping mission, known as MONUC, is authorized to have 17,000 personnel including 600 unarmed military observers.
"We accept the idea that MONUC should be more efficient on the ground. They should use their full capacities," Ripert said.
"And we have to make sure that their capacities are adapted to the kind of threat and the kind of challenges they have to face," he said. "This is why we have decided to answer to the request."
Doss said UN peacekeepers will police the buffer zone they expect to be created when rebel forces pull back from areas they control in the conflict-wracked east of the country.
Congolese rebels pulled hundreds of fighters back from some of their front lines on Wednesday, in keeping with their promise a day earlier to do so to allow talks with the army, whose soldiers fled some areas of the province.
Ban said he welcomed the move and hoped that safe passage would be given for humanitarian workers.
But while out patrolling, UN forces swapped gunfire with pro-government Mai Mai militiamen, who attacked with machine guns in Kibitutu, a village about 72km north of Goma.
The area is just south of the envisioned UN-policed buffer zone. MUNOC already has about 6,000 peacekeeping troops in the region. The militiamen usually had been allied with DR Congo's government.
The fighting has displaced at least 250,000 people this year.
With its troops spread thin in DR Congo's vast areas, the UN's peacekeeping mission has been criticized for not doing more to protect civilians.
Comments will be moderated. Keep comments relevant to the article. Remarks containing abusive and obscene language, personal attacks of any kind or promotion will be removed and the user banned. Final decision will be at the discretion of the Taipei Times.