South Koreans float more propaganda balloons, leaflets across border to North
South Korean activists sent propaganda leaflets over the border yesterday into North Korea, ignoring their own government's pleas to stop the practice and threats from the North to sever relations if it continues.
North Korea announced last week it would ban border crossings starting on Dec. 1, citing the South Korean government's refusal to clamp down on "confrontational" activities, including the leafleting.
South Korean officials implored activists on Wednesday to stop sending the leaflets critical of leader Kim Jong-il and his authoritarian regime, saying the campaign threatens to heighten tensions with the North.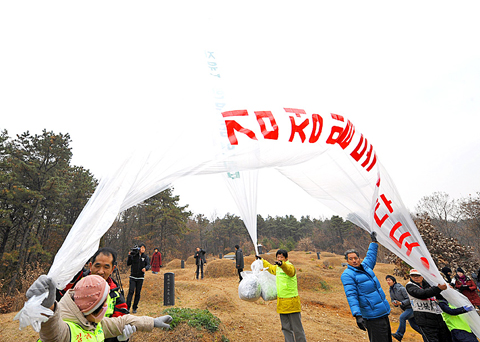 South Korean activists on a hillside in Gimpo, west of Seoul, launch balloons carrying anti-Pyongyang propaganda leaflets toward the border yesterday.
PHOTO: AFP
Relations between the two Koreas have been tense since South Korean President Lee Myung-bak took office in February pledging to get tough with the North.
However, activists went ahead yesterday and sent about 10 huge helium balloons — each stuffed with some 10,000 flyers — across the heavily fortified border.
"We'll continue to send the leaflets. The government's appeal wasn't sincere," Choi Sung-yong said after launching a balloon from a spot near the border.
Yesterday's leaflets criticized Kim's autocratic rule and called on North Koreans to rise up against his regime, saying he suffered a stroke recently.
"Your 'great' leader's last days are approaching. The dictator has collapsed from illness," one leaflet said.
A South Korean lawmaker — who returned home on Wednesday from a five-day trip to North Korea — told reporters yesterday that the North has no intention of resolving the impasse unless the South changes its policy toward it.
"They spoke in such a strong manner that we couldn't say anything [in response]," said Kang Ki-kap, head of the small opposition Democratic Party.
North Korean party officials also expressed dissatisfaction with media speculation over Kim's health condition, said Lee Young-soon, another member of the DLP delegation that visited the North. She did not elaborate.
South Korean and US officials have said North Korea's 66-year-old leader, who allows no criticism or opposition to his rule, is likely to have suffered a stroke, but North Korea has denied he was ill.
The propaganda activists — many of them defectors from the North — say their hope is that North Koreans will pick up the leaflets printed on vinyl paper and realize their government has been lying to them. The leaflets are among the most direct means of reaching North Koreans since their access to the outside world is strictly regulated by the government.
While it's unclear exactly how many North Koreans read the leaflets, several defectors to the South have said the flyers prompted them to plot their defections.
The South Korean government says it cannot ban people from sending the leaflets because of laws protecting freedom of speech.
Also See: Controversial textbooks heat up debate over S Korean history
Comments will be moderated. Keep comments relevant to the article. Remarks containing abusive and obscene language, personal attacks of any kind or promotion will be removed and the user banned. Final decision will be at the discretion of the Taipei Times.