Al-Qaeda No. 2 lashes out at Obama
HOUSE SLAVE: The Egyptian-born militant says in a recent Web message that the US president-elect will give a new face to the US, but that US repression remains the same
Al-Qaeda's No. 2 leader slurred US president-elect Barack Obama with a demeaning racial term for a black American who does the bidding of whites in a new Web message on Wednesday intended to dent Obama's popularity among Arabs and Muslims and claim he will not change US policy.
Ayman al-Zawahri's speech was al-Qaeda's first reaction to Obama's election victory — and it suggested the terror network was worried the new US leader could undermine its rallying cry that the US was an enemy oppressor.
Obama has been welcomed by many in the Middle East who hope he will end what they see as US aggression against Muslims and Arabs under US President George W. Bush. Some believe his race and Muslim family connections could make him more understanding of the developing world's concerns.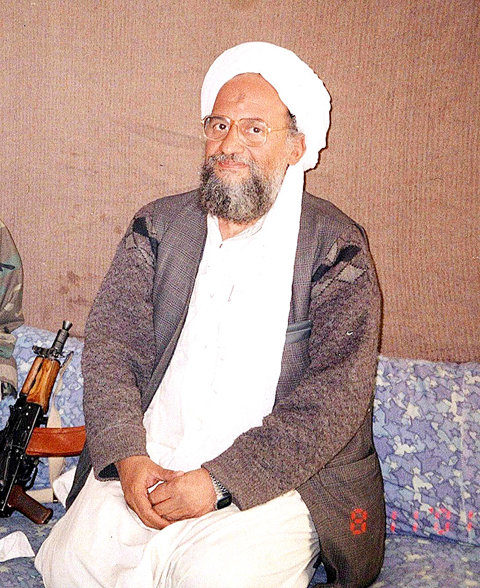 Osama bin Laden's deputy Ayman al-Zawahiri sits at his hideout at an undisclosed location in Afghanistan on Nov. 8, 2001.
PHOTO: EPA
Al-Zawahri dug into US racial history to try to directly knock down that belief and argue Obama would be no more sympathetic than white leaders to what the al-Qaeda leader called "the oppressed" of the world.
He said Obama was the "direct opposite of honorable black Americans" like Malcolm X, the 1960s Muslim African-American rights leader, who was known among some in the Arab world and seen as a symbol of anti-imperialism.
Al-Zawahri also called Obama — along with former US secretary of state Colin Powell and US Secretary of State Condoleezza Rice — "house Negros."
The video included old footage of speeches by Malcolm X in which he explained the term, saying black slaves who worked in their white master's house were more servile than those who worked in the fields. Malcolm X used the term to criticize black leaders he accused of not standing up to whites and discrimination.
Speaking in Arabic, al-Zawahri used the phrase abeed al-beit, which literally translates as "house slaves." But in the video message, posted on Islamic militant Web sites on Wednesday, al-Qaeda supplied English subtitles of the speech that translated the phrase as "house Negros."
The 11-minute, 23-second video featured an audio message by al-Zawahri, played over a still image of the al-Qaeda No. 2.
The video graphics underlined the contrast al-Zawahri aimed to show: On one side of the screen was a photo of Obama wearing a Jewish skullcap and meeting Jewish leaders. On the other side was a photo of Malcolm X praying in a mosque. Interspersed was footage of Malcolm X talking of a "worldwide revolution" against the "Western power structure."
Al-Zawahri addressed "all the world's weak and oppressed" and warned them: "America has put on a new face, but its heart full of hate, mind drowning in greed and spirit which spreads evil, murder, repression and despotism continue to be the same as always."
He accused Obama of turning his back on his heritage to gain power.
"You were born to a Muslim father, but you chose to stand in the ranks of the enemies of the Muslims, and pray the prayer of the Jews, although you claim to be Christian, in order to climb the rungs of leadership in America," he said.
"It appears that you continue to be captive to the same criminal American mentality towards the world and towards the Muslims," he said.
Jeremy Binnie, an analyst with Jane's Terrorism and Insurgency Center, said al-Zawahri's message suggests al-Qaeda leaders are worried "that Obama could be effective in rebuilding America's image."
Comments will be moderated. Keep comments relevant to the article. Remarks containing abusive and obscene language, personal attacks of any kind or promotion will be removed and the user banned. Final decision will be at the discretion of the Taipei Times.