Croatia vows 'no sleep' for criminals after bomb blast
The Croatian prime minister has pledged to relentlessly pursue the killers of a journalist slain in a bombing, promising that no criminal would sleep calmly until this case and other major crimes were solved.
Croatian Prime Minister Ivo Sanader convened an emergency session of the national security council on Friday to discuss the death of Ivo Pukanic, 47, who owned and edited Nacional, an influential publication known for its investigative journalism.
Nacional's marketing director, Niko Franjic, also died when an explosive device was placed near their car in the capital, Zagreb.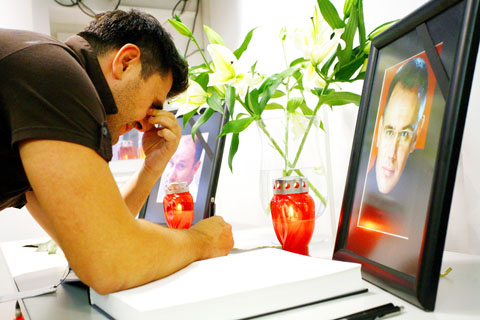 A man signs a book of condolences in Zagreb on Friday for Ivo Pukanic and Niko Franjic, journalists killed in a car bomb attack outside the offices of Croatian weekly newspaper Nacional in central Zagreb, Croatia.
PHOTO: AFP
"We will fight organized crime or terrorism — whatever is behind this murder — to its very end," Sanader said after the security council's meeting. "From now on, no criminal can sleep calmly."
Sanader also said there was no need to introduce the national state of emergency as some have suggested, but that all relevant institutions would be mobilized.
Croatian TV channels showed Pukanic's gutted Lexus and two bodies draped with cloth beside the car. The blast also slightly injured two others and shattered windows of neighboring buildings.
Pukanic's killing came just two weeks after the 26-year-old daughter of a prominent lawyer was shot twice in the head in the capital, in what authorities described as a mafia-style slaying. No suspects have been arrested.
The bold killings, coupled with several recent beatings in Zagreb, triggered national outrage and accusations that the government was powerless against crime.
The EU has warned Croatia to crack down on crime and corruption if it hopes to join the 27-nation bloc. In Brussels, Belgium, Olli Rehn, the EU enlargement official, condemned the killing and said he believed Croatian officials would "duly investigate" and bring the perpetrators to justice.
Krunoslav Borovec, a senior police official, said authorities had questioned 150 people and were exploring all motives, ranging "from banal ones to those with organized crime background."
He said the attack was "undoubtedly carried out by professionals" and added that country's best policemen were investigating the case.
Borovec said police experts were preparing a sketch from witness accounts of the man suspected of planting an explosive device near Pukanic's car. They were also examining security camera footage.
Pukanic had claimed six months ago that someone had tried to shoot him dead, but missed. Police gave him protection briefly afterward, but he asked in August to have it discontinued, Interior Minister Tomislav Karamarko said on Thursday.
Nacional, however, claimed that Pukanic faced "police pressure" to accept the withdrawal of his 24-hour protection.
"Because he had police protection taken away, despite the dangers that still threatened him, those who made that decision were directly responsible for his death," the paper said in a statement posted on its Web site.
Pukanic's Nacional, launched in 1995, had been praised by some for disclosing murky political or business deals.
But he also was often criticized for being too close to certain politicians, secret agents and even a man believed to be a criminal gang's boss — and was therefore not widely trusted as an impartial journalist.
Comments will be moderated. Keep comments relevant to the article. Remarks containing abusive and obscene language, personal attacks of any kind or promotion will be removed and the user banned. Final decision will be at the discretion of the Taipei Times.