Pakistan claims 1,500 fighters killed
Pakistani forces have killed 1,500 al-Qaeda and Taliban militants during a two-month operation in a remote tribal zone, while 73 troops have also been killed, the military said yesterday.
In the offensive launched in early August in the region of Bajaur, bordering Afghanistan, troops also captured a major strategic town at the center of militant supply routes, it said.
Islamabad has previously hailed its operation in Bajaur as proof that it is responding to US and Afghan demands to take action against extremists in Pakistan's seven semi-autonomous tribal areas.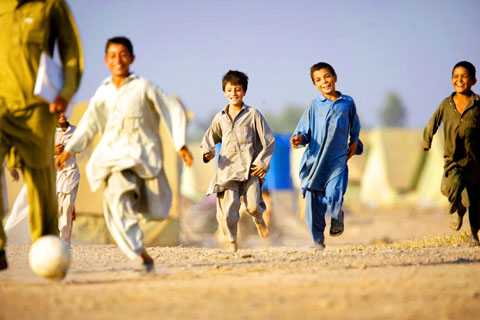 Boys from the Bajaur tribal region play football at the Katcha Garhi camp in Peshawar, Pakistan, last Sunday. The Taliban beheaded their relatives and terrorized their villages. Now refugees fleeing a Pakistani offensive against the militants say the army is bombing their homes, killing women, children and livestock. Nearly 200,000 people have fled the fighting in Bajaur regency to camps in Afghanistan and Pakistan.
PHOTO: AP
"More than 1,500 militants have been killed during the operation and security forces have gained major successes," Pakistani Major General Tariq Khan, head of the paramilitary Frontier Corps (FC), told reporters visiting the region.
"Some 42 army men and 31 FC men embraced martyrdom," Khan told a press conference in Khar, the main town in Bajaur, adding that "172 regular troops were injured while 95 FC men were wounded in the fighting."
He said the key town of Loisam, whose capture by hundreds of militants in early August sparked the operation, "has been captured after stiff resistance."
Security forces have captured more than 300 foreign militants, mainly from Afghanistan, Uzbekistan and Tajikistan, in the operation, he said.
But he said that the operation "could go for several months before the area is completely cleared of militants."
Pakistan's tribal belt became a safe haven for hundreds of al-Qaeda and Taliban extremists who fled the US-led war against Afghanistan's hardline Taliban regime in late 2001 and have since set up training camps.
Comments will be moderated. Keep comments relevant to the article. Remarks containing abusive and obscene language, personal attacks of any kind or promotion will be removed and the user banned. Final decision will be at the discretion of the Taipei Times.