Poland, Italy threaten to veto climate change plan
DECEMBER DEADLINE French President Nicolas Sarkozy said he would not give up on the objectives or timetable as eastern EU nations balked at the costs
EU leaders stuck to ambitious targets for tackling climate change on Wednesday, despite Italy and a group of eastern European nations calling for caution during the economic crisis.
French President Nicolas Sarkozy, who holds the bloc's rotating presidency, voiced his determination to meet a December deadline for clinching agreement on a package of laws to combat global warming and promote renewable energy sources.
"I'm not giving up either on the objectives or the timetable," Sarkozy told a news conference after chairing what he acknowledged was a tough discussion.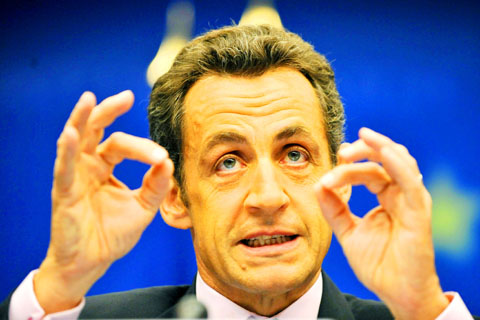 French President Nicolas Sarkozy speaks during a press conference after a working session of a European Council summit at the headquarters of the council in Brussels on Wednesday.
PHOTO: AFP
But Polish Prime Minister Donald Tusk threatened to use his veto unless more was done to shield Poland's coal-based economy from the impact of the measures and Italian Prime Minister Silvio Berlusconi also wielded a veto threat to demand more time and less burden on industry.
Failing banks, plunging stock markets and warnings of recession pushed climate change down the agenda of the two-day summit, but no one challenged the key EU goal of cutting carbon dioxide emissions by 20 percent by 2020.
The other targets are to reduce energy consumption by 20 percent through efficiency measures by that date and to derive 20 percent of energy from renewable sources.
The 27-nation bloc aims to lead the world in battling global warming, mindful of UN predictions of more extreme weather and rising sea levels.
Eastern European countries and some of Europe's traditional industries say the plan is too costly in light of the crisis, but several EU leaders said that rescuing the economy and the planet could go hand in hand.
"Let's not hide behind the crisis," Sarkozy said. "Global warming is there whether there's a financial crisis or not. If Europe wants to carry weight in the world, then we have to do it."
Poland, Hungary, Bulgaria, Estonia, Latvia, Lithuania, Romania and Slovakia called in a joint letter to the leaders for the rest of the EU to recognize their economic difficulties.
"If there is no other solution, we will use the possibility of a veto," Tusk said. "The stakes are high. But the determination of Poland and eight other countries is starting to have its effects."
Berlusconi called the whole idea of trading in the right to pollute "ridiculous" and told reporters: "I am ready to use our veto powers."
European employment chief Vladimir Spidla said jobs lost in Europe's older industries could be balanced by jobs created in new green industries — such as wind turbines or electric cars.
Some leaders linked the climate change battle to EU efforts to reduce the bloc's dependence on oil and gas imports.
Energy security has soared to the top of the EU agenda since Russia's invasion of Georgia highlighted the frailty of a key transit route for gas to enter Europe from the Caspian region — a route aimed at improving the EU's range of energy choices.
British Prime Minister Gordon Brown said Europe's move to a low-carbon economy would help reduce costly and volatile oil imports and protect it from sudden disruptions to supply.
"If the last year showed anything, it is that we must deal with the climate change problem, because oil is less affordable than it was, because energy security is more important than it was," he said.
European Commission chief Jose Manuel Barroso, after talks with Brown, also urged the leaders to press ahead and not abandon Europe's leadership role.
"If we now give any signal that we are not really committed to doing it, others will not have the incentive to do it," he said.
Comments will be moderated. Keep comments relevant to the article. Remarks containing abusive and obscene language, personal attacks of any kind or promotion will be removed and the user banned. Final decision will be at the discretion of the Taipei Times.